Steve Jobs, who died in October this year, has been posthumously handed a Grammy award.
Meanwhile, a "life-like" bronze statue of the Apple co-founder has been erected in Budapest, Hungary.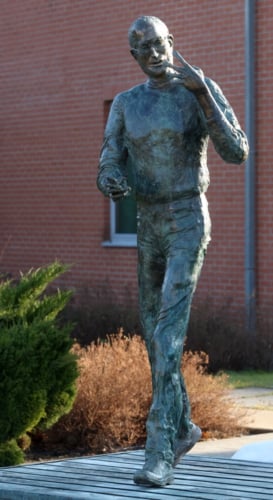 Me woz born in da heart of da Staines ghetto
The Recording Academy said that Jobs was among its list of 2011's "Trustees Award honorees".
"This year's honorees offer a variety of brilliance, contributions and lasting impressions on our culture," said Recording Academy CEO Neil Portnow.
"It is an honor to recognise such a diverse group of individuals whose talents and achievements have had an indelible impact on our industry."
Some might express surprise at the fact that Jobs received a posthumous award, presumably for his efforts to punt music via Apple's iTunes store.
Others could reasonably argue that he wouldn't have accepted such an award when he was alive. It's all gravy now, however.
Returning to that spectacular statue, El Reg can report that it was commissioned by software outfit Graphisoft, which claimed to have a relationship with Apple that could be traced back to the 1980s.
It said that Jobs stumbled across the company's first version of ArchiCAD software at the 1984 CeBIT event in Germany. The world's greatest marketing genius responded by getting Apple to help out with the development and distribution of the code, said Graphisoft.
"Apple's support included cash and computers at a time when Graphisoft was a small company with limited resources, working within the economic and political confines of what was, at the time, communist Hungary," added the company's founder and chairman Gabor Bojar.
However, Vulture Central can't help but think that the statue looks a bit like Jobs is doing a poor Ali G impression. Aaiii. ®