Nikon Coolpix P7100 compact camera
All at your fingertips
---
Captivating compact
The 1/1.7in 10.1Mp CCD sensor is one of the larger sizes used by compact cameras, but it's no match for some of the mirrorless models out there. Yet keeping the sensor resolution at 10Mp help maintain a better individual pixel size when compared to higher resolution models. This in turn results in better detail rendition, better noise performance and the possibility of shallower depths of field, a great creative advantage over other compacts.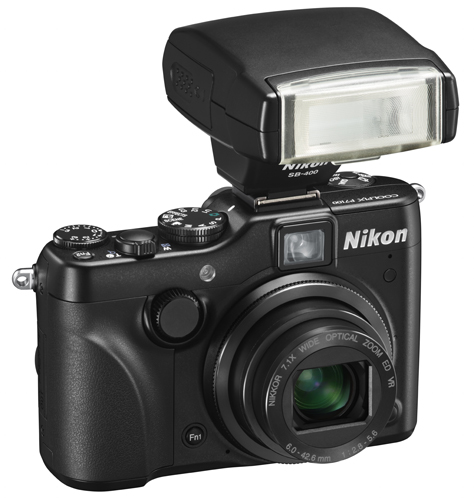 Attach your own flashgun if you need an extra burst of light
The improved Expeed C2 image processing delivers quite impressive ISO performance results, especially at low speeds. But even at the fastest settings noise control is respectable, with images captured with a sensitivity of up to ISO 3200 revealing minimal amounts of noise. Again, the P7100 ignores current trends as it doesn't sport full HD video; being limited to a 720p HD movie mode. Regardless, the footage it produces is smooth and crisp while sound reproduction has a wide spectrum and is crystal clear.
Given the exhaustive range of control and customisation on offer, the P7100 might prove hard to resist for enthusiast photographers with manual operation inclinations. Likewise for pros who need an easy, compact camera to carry along but want to keep the same level of flexibility when shooting that a DSLR offers.
While the plethora of physical controls may well prove too intimidating for a less advanced users, it is this versatility that makes it an ideal camera for a beginner too. The Coolpix P7100 would certainly help to improve technique, as it has the perfect balance of auto modes with plenty of scene selection and intelligent functions to get started with and full and easy manual control for later experimentation
Verdict
That said, the price tag on this camera will by itself exclude most happy snappers, but you do get what you pay for, as the Nikon Coolpix P7100 has no major flaws and delivers very satisfying images. With the PowerShot G12 over a year old now, the pressure is on Canon to match Nikon's accomplished well-designed rival, but why wait? ®
Catherine Monfils is a professional photographer specialising in portraiture, lifestyle and fashion.
More Camera Reviews…

Nikon
1 V1
Olympus
PEN Mini
E-PM1
Hasselblad
H4D-200MS
Leica
X1
Fujifilm
Finepix X100

Nikon Coolpix P7100 compact camera
Compact camera littered with pro functions for sophisticated shooting.