Despite budget cuts and the long-running diminishment of the glamour around space exploration, 2011 saw Russia, the US, Europe and even the UK were all plan, execute and in some cases spectacularly fail to execute missions to the stars.
But the US budget cuts really made themselves felt: nowhere more poignantly than in the end of the US space shuttle programme.
Shuttles Discovery, an Endeavour and Atlantis all went out of this world in 2011, the year that marked the end of an era in space travel.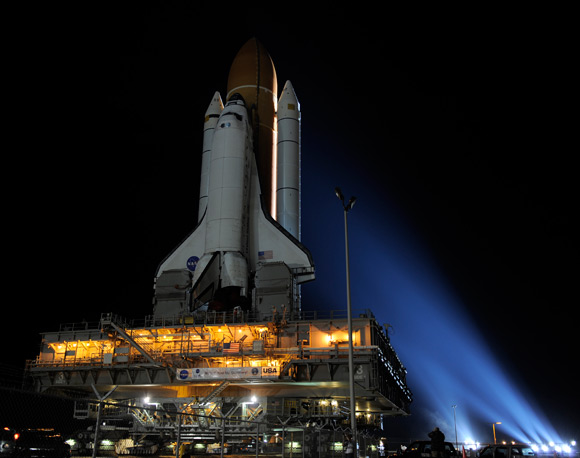 Space shuttle Discovery during its crawl to the launch pad. Credit: NASA
Discovery, on mission STS-133, was originally due to take off in November 2010, but was delayed till February with problems in its external fuel tank - not what you want for a manned mission.
Up to that point, Discovery had flown 38 times, spending 352 days in space. It was the first shuttle to visit Russia's Mir orbiting outpost and the craft responsible for lifting the Hubble Space Telescope.
After another hitch, this time with a feeler gauge, Discovery was cleared for launch on 24 February, a trip that went off without a hitch, delivering six astronauts and a robot - the Robonaut 2 or R2 - to the International Space Station.
Two of the six astronauts, Steve Bowen and Alvin Drew, did a couple of spacewalks for some maintenance on the ISS, before Discovery set out for its return trip on March 8.
But before that the crew had to endure were treated to a few celebrity wake-up calls, something Endeavour and Atlantis would be getting a taste of as well.
On 7 March, the crew were roused by the dulcet tones of William Shatner, in his Captain Kirk persona, saying, "These have been the voyages of the Space Shuttle Discovery", which admittedly was quite cool.
In an aptly-worded - if slightly odd - choice, on the morning the Discovery 'nauts were due to leave the ISS, they were kicked out of bed by the sound of Gwyneth Paltrow singing Coming Home, a decision made by the space station flight controllers down on the ground.
Discovery glided in for a smooth landing at Kennedy Space Center on 9 March, and was warmly commemorated by NASA shortly after on the space agency's website.