Japanese boffins crack arse-based ID recognizer
For two per cent it's a bum rap
---
Researchers at Japan's Advanced Institute of Industrial Technology have developed a seat that can identify the user by the shape and heft of their buttocks.
The seat, currently designed for use in the car industry, contains 360 sensors measuring pressure points, on a scale of one to 256, and uses the data to build a US-style fanny fingerprint of the designated driver. The system is 98 per cent accurate, associate professor Shigeomi Koshimizu told Physorg.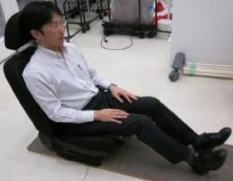 "I'm feeling your bottom Dave"
If the auto makers take a liking to the technology the seat could be in use by 2014, but it's not just the car industry that could be interested. Professor Koshimizu suggested that office equipment suppliers could be keen on using the technology to make sure that office staff can forget the tedious business of remembering passwords, and having HR know the size of their bum.
One of the advantages of the technology, according to the team, is that it's less awkward than other forms of biometric technology. Doing a retina scan or using a fingerprint machine is intrusive, but sitting down has been normal for mankind since the evolution of the posterior.
At this time of Christmas cheer El Reg can't help wondering if a week of gorging might not cause an unreasonable amount of support calls, or lead to a more literal meaning of work being a pain in the arse. ®