This article is more than 1 year old
Sony NEX-C3 compact system camera
Mirrorless marvel
Glass works?
Up the stakes to ISO 6400 and there's a loss of edge sharpness and the introduction of mottled, slightly chunky grain, but images are still printable, if not ideal candidates for heavy crops. Only ISO 12800 is significantly less than usable, with sharpness blown to the wind and heavy chroma noise making shots look more like cameraphone snaps circa 2003.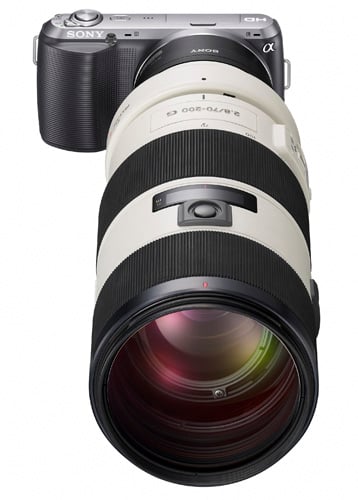 Long shot: Sony's 70-200mm F2.8 G series lens attached using the LA-EA1 adapter
If I had reservations about anything relating to the NEX-C3's image quality, they came from the lens, which has some obvious weak points. This isn't surprising from a kit lens, but does underline that if you can find the NEX-C3 with either body-only or with a higher-end lens, you should get that. For one thing, the 18-55mm f/3.5-5.6 displays obvious barrel distortion at 18mm.
Barrel distortion can be aesthetically desirable in some rather niche circumstances, but at a less than super-wide 18mm it's really unwelcome. The lens also softens up dramatically when you get it away from its sweet-spot, which is around the f/5.6-f/11 mark.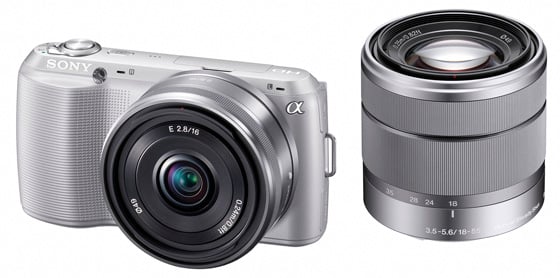 16mm pancake and 18-35mm zoom kit lenses
Drop it to its smallest f/32 (for long, filterless daytime exposures, for instance) and you'll swear the camera's autofocus has wandered off, so soft are the pictures. On the plus side, the kit lens's image stabilisation (Optical Steady Shot or OSS in Sony-speak) system is really good - with a bit of practice I was handholding shots at 1" with decent results.
There are some desirable lenses in Sony's NEX catalogue, such as the 16mm f/1.8 "pancake" lens, or the 50mm f/1.8. The bad news is that this extra kit is expensive. The 50mm costs more than £200; the 16mm wide-angle the thick end of £130. Wildlife and sports fans are poorly catered for; the longest E-mount lens currently made by Sony is the 55-210mm f/4.5-6.3.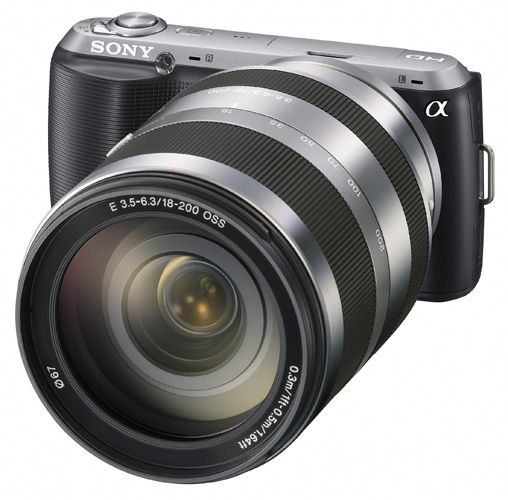 Made to measure: Alpha SEL18200 E-mount 18-200mm lens
The length is reasonable for sports days and visits to the zoo, but the minuscule f-stop at the long end of the lens is going to have you reaching for the extremities of the ISO range when faced with less than perfect light. You can always opt for the LA-EA1 adapter, which allows you to mount Alpha-mount lenses and gives you access to a far larger library of glass, albeit at the cost of nearly £200 and, in some cases, autofocus.