This article is more than 1 year old
The Commodore 64 is 30
The most successful 8-bit micro ever
The sprite stuff
The 64's graphics were handled by a Vic-II chip capable of reproducing 16 foreground and eight background colours. More importantly for an ever-more game-crazy potential audience, the chip could maintain up to eight 24 x 21-pixel sprites - 12 x 21 in graphics modes sporting more than two colours - moving them smoothly around the screen and automatically ensuring they were drawn correctly over the background.
Many 64 owners spent hours upon hours hand-coding sprite data using Poke commands to try the technology out. The manual had a set they could enter by hand.
The Vic (Video Interface Chip) core would support separate 40 columns by 25 rows text and bitmapped graphics modes, the latter running at 300 x 200 or 160 x 200. It also contained circuitry for bit-level scrolling.
Commodore pitched the 64's sprite handling hard, the key feature, it said, of the machine's superior graphics capabilities. The 64 was good at sound too, with a MOS Technology Sid (Sound Interface Device) chip capable of maintaining and mixing three separate sound channels, with four waveform options per channel and an eight-octave voice capacity.
The 64 gained these graphics and sound chips from a failed Commodore project, the Max. MOS Tech, which was owned by Commodore, began developing the 5µm Vic-II and Sid chips during 1981 while the parent company was pushing the Vic-20. That machine was selling very well over here but particularly in the States, so Commodore decided to use the new MOS chips in a machine intended to be a low-cost games machine that would enter the market below the Vic.
The result was the Max, a machine designed in Japan and sporting a flatter look than the Vic and an odd, moulded-metal keyboard reminiscent of the controllers bundled with the 1979 Intellivision games console system. Not that the keyboard would get heavy use. The Max was intended to be more games console than computer. It didn't even feature built-in Basic. The programming language and all the Max's games would be loaded through plug-in Rom cartridges.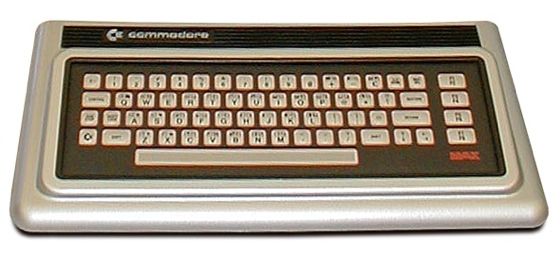 Too soon: Commodore's Max
Source: Wikimedia
Initially aimed at the Japanese market, the Max was also earmarked for the US and Germany. It was briefly considered for the UK too, here named the Vic-10 and pitched to take on the likes of the low-cost ZX81. The Vic-10 even appeared in a number of UK retailers' brochures and in mail-order catalogues - which is where I first saw it - but would never ship over here, and may never have appeared in the US and Germany either.
However, the Max did launch in Japan, early in 1982. But it didn't survive long there, and was killed off within the year. By then, the Commodore 64 was in production and seemed to company bosses to pave the way for more lucrative computing markets.