This article is more than 1 year old
The Commodore 64 is 30
The most successful 8-bit micro ever
Awaiting the Amiga
Neither the SX64 nor the Plus/4 sold at all well and, less than a year old, were canned in 1985, the year Commodore followed up the 64 with a 128KB version. The 128 would last as long as the 64 - it would be four more years before they finally went out of production, in 1989.
By the time of the 128's release in 1985, the 64 had gained a slimmer, more wedge-like design that would inspire the look of the most popular version of the Amiga, which had been in development during 1982 after the 64's announcement, though not at Commodore. The slimmer 64 was called the 64C, and it contained more up-to-date versions of the original 64's key Vic and Sid chips.
The first Amiga was also released in 1985, by which time it had been acquired by Commodore, a year after a prototype was unveiled at CES 1984 by founding manufacturer Amiga Corporation.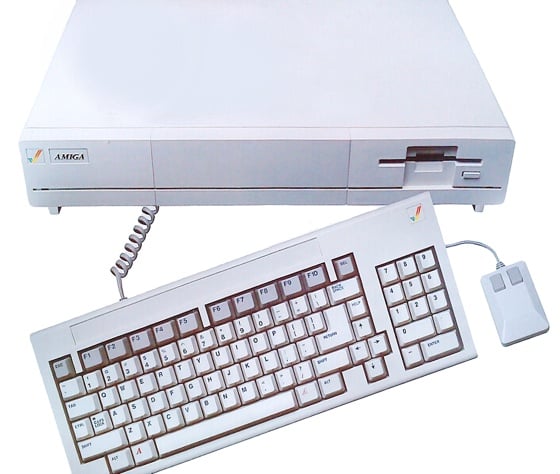 First Amiga then Commodore's Amiga 1000
Source: Wikimedia
If the 64 came to an end in 1989, its name did not. The following year, Commodore unveiled the Commodore 64 Games System, a C4C-derived console designed to take the computer's plug-in games cartridges - essentially what the Max/Vic-10 had been planned to be all those years before.
By 1990, though, Nintendo and Sega had shown there was now a market for consoles - the Nintendo Entertainment System launched in 1983, the year after the Max and the 64 - and Commodore decided to have another go.
It also decided in 1990 that there was room for a new 64-style machine in the space between the Games System and the Amiga, and a prototype Commodore 65 - aka the C64DX - was built but rejected by Commodore's management. Jack Tramiel had long since quit Commodore in January 1984, and the company was now being run by Irving Gold, who felt that some kind of bridge between the 64 world and the new Amiga era, the role the 65 was intended to fulfill, was unnecessary after all.
The 65 project was spiked. Commodore itself would not survive much longer. It declared bankruptcy in April 1994. ®