This article is more than 1 year old
Microsoft celebrates the death of IE6
We come to bury IE, not to praise it
Microsoft is celebrating the news that Internet Explorer 6 (IE6) use in the US has officially dropped below one per cent of internet visits.
In March, Microsoft assembled a team to push for the destruction of IE6, and have succeeded in reducing the market footprint of the browser. Currently 7.7 per cent of worldwide internet site visits use IE6, according to Microsoft, but the figure is now 0.9 per cent in the US.
So Redmond threw a party to celebrate: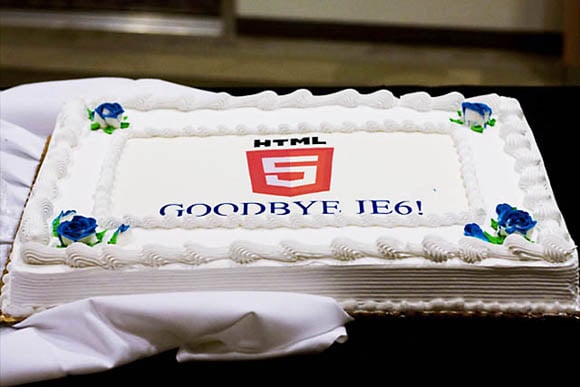 Happy death day to you
"I'm thrilled to say that the United States has joined the ranks of Austria, Poland, Sweden, Denmark, Finland and Norway in dropping below one per cent usage of IE6," blogged Roger Capriotti, Microsoft's director of Internet Explorer marketing. "We hope this means more developers and IT Pros can consider IE6 a 'low-priority' at this point and stop spending their time having to support such an outdated browser."
China currently leads the rankings in use of IE6, with around a quarter of internet denizens still firing up the browser, which was first released in August 2001. Surprisingly, South Korea – one of the most wired countries in the world – still has over 7 per cent of users on IE6, with India not far behind at 5.4 per cent.
The Norwegians are ahead of the curve, with just 0.2 per cent of internet users holding on to the old browser – in May 2010 it became the first country to break the sub-one per cent figure. Its Nordic neighbors in Finland, Denmark, and Sweden followed shortly afterwards. In the UK, the figure is 1.4 per cent.
While Microsoft has proclaimed the software to be dead, all is not lost for IE6 code. A team of former Redmond staffers have started a company called Browsium that markets add-ons for IE8 and IE9, dubbed UniBrows, that enable them to run IE6 legacy code. ®