BlackBerry PlayBook in US price plummet
Everything must go - for $299 each
---
RIM's frenzied attempts to offload bags of its unpopular PlayBook tablets continues, with prices on all models in the US slashed to $299.
Lucky Americans can now buy a 16GB, 32GB or 64GB version of the fondleslab from the US BlackBerry shop website at the reduced price (obviously there's no point opting for less memory when you can get one with the most memory for the same price - until stock starts running out, of course).
On the 64GB model, that gives a saving of a massive $400 off the original retail price of $699.
However, in the UK, prices remain at the same reduced rate from RIM as they had in October, putting a British 16GB tablet at £249 direct from the BlackBerry shop, 32GB at £329 and 64GB at £409 ($637).
While RIM isn't giving Brits any great savings, other retailers in the country are still knocking down the prices.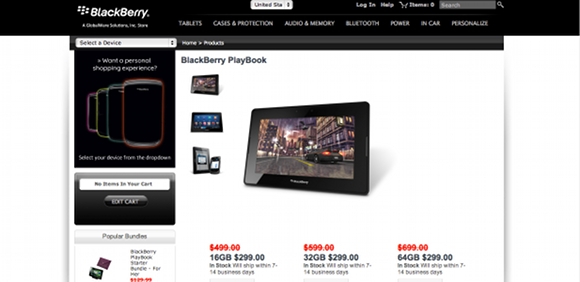 That US price slash in full
Dixons has the 64GB fondleslab at the same price as RIM's, but the 16GB is down to £169 (there's no 32GB on offer). Meanwhile, Amazon UK is offering the 16GB at £197.99, the 32GB at £244.99 and the 64GB at £339.90, and warning that stocks of all three are running out.
The price-cutting in the US is the latest attempt by RIM to clear massive stockpiles of the PlayBook, which has failed to spark much interest in the slab-fondling community.
The Canadian firm took a $485m charge at the end of last year on the tablets, money it said it needed to increase promotional activity in order to "drive sell-through to end customers".
HP managed to ignite some interest in its beleaguered Touchpad when it dropped prices to rock bottom and introduced various promotional gimmicks to shift the tablets.
So far, RIM has tried dropping prices and offering its PlayBooks on a buy-one-get-one-free basis, but it looks as though the firm hasn't managed to encourage enough people to pull out their wallets.
RIM had not returned a request for comment at the time of publication. ®