Videogame piracy may be in decline, according to a study investigating which games were illegally downloaded the most last year.
The annual report from TorrentFreak sees Crysis 2 take the centre podium in the PC realm after it was illegally downloaded roughly 3.92 million times. Modern Warfare 3 was close behind, followed by its FPS rival Battlefield 3, although both were launched much later in the year.
Nintendo's Super Mario Galaxy 2 topped the Wii list for a second year running, while Gears of War 3 pipped all else in the Xbox 360 department. Figures for pirated PS3 games were not included, as the platform sees considerably less torrent abuse, likely due to the ruthless nature of Sony's security protocols.
TorrentFreak claims the number of downloads - at least those of top-tier titles - is slightly lower than last year. Could this be the result of services such as Valve's Steam or EA's Origin, offering hassle-free access to downloads for more reasonable prices?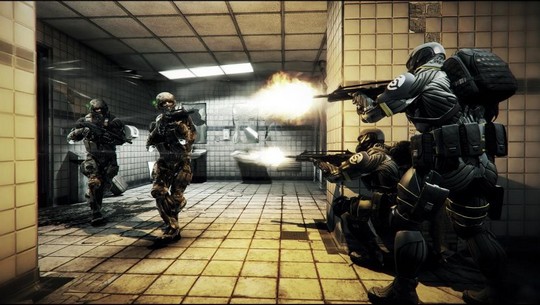 Crysis... What Crysis?
The Steam client in particular broke the 5m concurrent user mark this week, a sign that an increasing number of people are turning to such platforms to amass content. Whether that directly affects piracy remains to be seen.
Either way, piracy will continue to be a concern for publishers, even if this is the start of a positive trend in the abolition of illegal torrent abuse. Check out the list of the most popular pirated games in 2011 below. ®
Top 5 Pirated PC Games
1. Crysis 2 - 3,920,000 (March 2011)
2. Call of Duty: Modern Warfare 3 - 3,650,000 (Nov. 2011)
3. Battlefield 3 - 3,510,000 (Oct. 2011)
4. FIFA 12 - 3,390,000 (Sept. 2011)
5. Portal 2 - 3,240,000 (April 2011)
Top 5 Pirated Wii Games
1. Super Mario Galaxy 2 - 1,280,000 (May 2010)
2. Mario Sports Mix - 1,090,000 (Feb. 2011)
3. Xenoblade Chronicles - 950,000 (Aug. 2011 EU)
4. Lego Pirates of the Caribbean - 870,000 (May 2011)
5. FIFA 12 - 860,000 (Sept. 2011)
Top 5 Pirated Xbox 360 Games
1. Gears of War 3 - 890,000 (Sept. 2011)
2. Call of Duty: Modern Warfare 3 - 830,000 (Nov. 2011)
3. Battlefield 3 - 760,000 (Oct. 2011)
4. Forza Motorsport 4 - 720,000 (Oct. 2011)
5. Kinect Sports: Season Two - 690,000 (Oct. 2011)
Sponsored: Webcast: Ransomware has gone nuclear