Apple's iMessage may be killing text messaging - or the text messaging revenues made by network operators, at least.
Yes, it's not hard empirical data, but one iPhone user, Nevan Mrgan, has charted a major drop-off in text messages sent once he upgraded his handset to iOS 5, which introduced iMessage.
iMessage routes SMS notes via Apple's servers if the recipient's iPhone, iPad or iPod Touch is connected to the internet over Wi-Fi. As such it bypasses the carrier's SMS infrastructure. The network operator does relay the message if the device isn't connected by Wi-Fi, or the recipient has no iMessage-compatible account.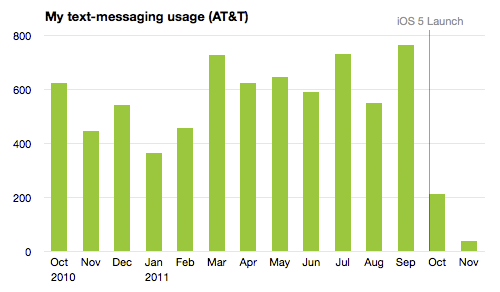 Source: Nevan Mrgan
We've seen no data to indicate that iMessage is better - or worse - than network-hosted SMS relays, but it is, for some, cheaper. Here in the UK, we're used to texting for free through the monthly contract, though PAYG-ers are not all so lucky. And many folk overseas pay extra for messages beyond allowances.
If Mrgan's data is typical, then it suggests not only that carriers risk losing cash from very heavy texters, but also that iDevice owners are generally texting other iDevice users.
It also shows how Apple - and other smartphone OS makers, if they implement such techniques - can wrest control away from carriers.
But not too far. At least not until Apple, Google et al own national wireless infrastructures of their own. ®
Similar topics