This article is more than 1 year old
WHSmith Kobo Vox e-reader
Can't wait for the Kindle Fire?
Review So you've been tempted by an e-book reader but the brouhaha surrounding the Amazon Kindle Fire launch in the States has confused you. A colour screen must be better, right? But will it ever come to the UK? If you really can't wait, rival e-book reader manufacturer has stolen a march on Amazon and released a gadget that looks just like the Fire.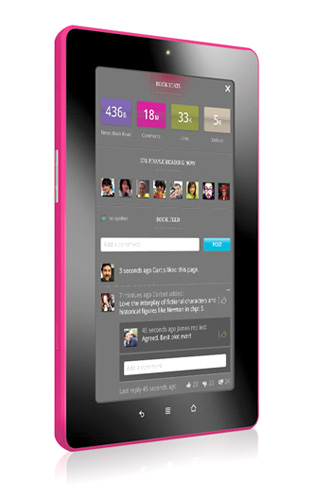 The Android alternative: Kobo's Vox
Well, though no date has been set, the Fire looks like it'll arrive in the UK in early 2012. And colour screens? If you're planning to read your e-books on a beach in sunshine, through sunglasses, e-ink screens like the basic Kindle, Sony Reader or Kobo Touch beat colour displays hands down. But if you plan to look at graphic novels or photo books, the colour screen has a lot to offer.

Practical positioning: power switch on top
For the Fire this includes a huge range of video titles but Kobo's aims are more modest: not a fully-fledged tablet, this is an e-book reader with a few extras. From the front it looks just like a Fire but flip it over and you'll see the familiar quilted, textured back like the Kobo Touch. It feels great, so the reader sits comfortably in the hand. Not everyone will care for the look, mind.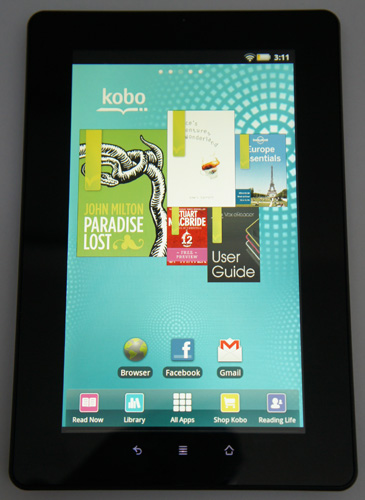 Homescreen
The power button is on the top edge of the Vox, unlike on the Kindle Fire and regular Kindle where users have noted that the position on the bottom edge makes accidental switch-off too easy. The home page is similar to on the monochrome Kobo Touch, dominated by the Kobo mosaic of five recently read books. Touch one to launch that title.