2012: The year when smartphones become smart?
Nice suit, shame there's no brain behind it
---
Even smarter...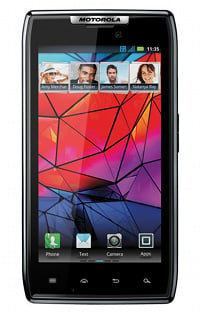 Motorola's new RAZR handset notices
when it is stationary and isn't being charged and
looks to conserve the battery...
Motorola's new RAZR handset comes with something called Smart Actions, which do a reasonable impression of Nokia Bots, but the Motorola handset also goes a stage further in making suggestions of how it might better coexist with the user. Noticing that the phone isn't charged and remains stationary at night, for example, the RAZR will offer to automatically shut down network synchronisation too – saving a good deal of wasted battery.
The nice thing about this kind of intelligence, so far at least, is that it's taking place on the handset, so there are no privacy issues to worry about. That also means the data isn't backed up, so a new handset will have no idea if it's going to be plugged in every night or not. The MotoACTV has an online service for tracking your workouts, so one might expect behavioural data to end up there eventually – for your convenience of course.
2012 might not be the year of the "smart" smartphone – people still seem more interested in better ways of telling their existing smartphones what they want done – but there is an inevitable drift towards intelligence, hopefully allowing our phones to take over as our minds start to fail us. ®