This article is more than 1 year old
Free iPhone 4S deal tempts Chinese fanbois
Two or three-year contract, zero dollars down
Updated China Unicom is offering a no-money-up-front iPhone 4S to Chinese customers in a deal that is sure to make iPhone users worldwide feel a wee bit underappreciated and overcharged.
If your Chinese reading skills are superior to those of your Reg reporter, you can find details on China Unicom's website. If not, you can attempt to parse Google Translate's effort.
According to Bloomberg's interpretation, the deal – which begins on January 13, the iPhone 4S's debut day in the Middle Kingdom – is sweet for users but a gamble for China Unicom, the country's second-largest wireless service provider and the only one to currently offer the iPhone, although talks between Apple and rival China Mobile have been rumored.
For 286 yuan per month ($45.30), China Unicom will provide a 32GB iPhone 4S for users who sign up for a three-year contract. For 386 yuan per month ($61.15), a user can get a 16GB iPhone 4S on a two-year contract.
Here in the US, AT&T's least-expensive plan for the 32GB iPhone 4S costs $39.99 per month for 450 "Anytime Minutes" for users who want to call both mobile and landline phones – but you'll pay $299 for the phone (plus tax on the full iPhone 4S value), and incur a $36 set-up fee. One assumes that the China Unicom base contract is voice-only, as well, but The Reg was not immediately able to confirm that supposition.
If you'd like to use your AT&T iPhone 4S for data and messaging, the lowest-cost option is an additional $15 for 200MB of data, plus $20 for unlimited messaging, or $0.20 per message. Although our lack of Chinese-language skills prevent us from reading China Unicom's pricing table, their plans appear to ratchet up, as well.
Sucking up all of the iPhone's subsidization costs is a risk to China Unicom, as is the 286-yuan plan. Perhaps the wireless service provider has been seduced by the time-honored temptation of "Sure, we're losing money – but we'll make it up in volume."
More likely, they're taking a longer-term view, hoping that once subscribers move to their service they'll stay for years to come – years in which China Unicom could increase tariffs on both basic and add-on services. ®
Update
A kind Reg reader has supplied us with a translation of the meat of China Unicom's pricing table. Unfortunately, we can't verify this translation, but here it is: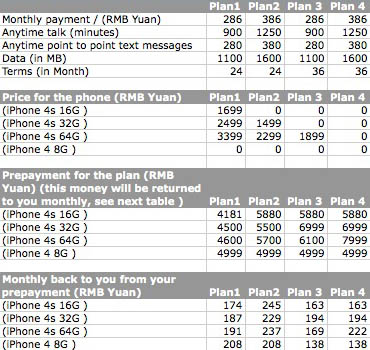 Prepayment with a monthly payback? Interesting...