Apple said to threaten legal action over Steve Jobs doll
Chinese action-figure maker committing a 'criminal offense'?
---
If you're a Jobsian fanboi jonesing for the recently announced Steve Jobs action figure, we have some bad news for you: Apple doesn't want you to have one.
So reports The Telegraph, which says that the Chinese action-figure maker In Icons has received a letter from Cupertino's lawyers threatening legal action should the 12-inch, impressively realistic plastic portrayal be offered for sale.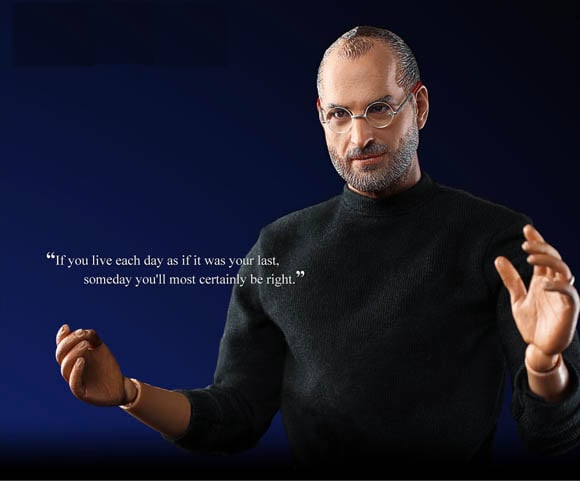 Sleazy money grab or true devotional offering? (click to enlarge)
As The Telegraph tells it, the letter informs In Icons that "any toy that resembles the technology company's logo, person's name, appearance or likeness of its products is a criminal offence."
Should Apple succeed in either scaring In Icons off or in actually winning a legal battle, you'll not only be precluded from purchasing the limited-edition posable figurine, but also from obtaining scale-model replicas some of Jobs' trademark accoutrements, such as his New Balance athletic shoes and rimless Lunor specs.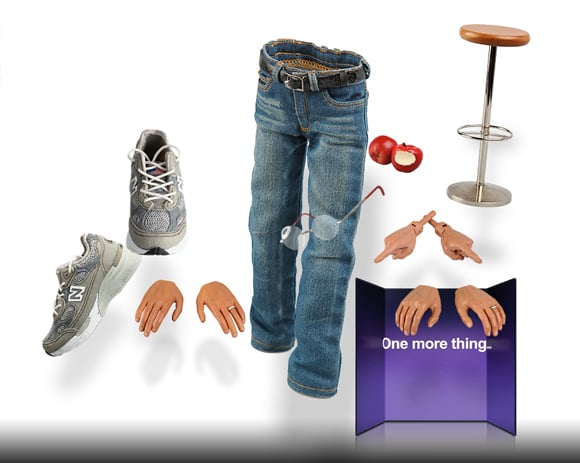 Did In Icons wish to skirt trademark laws by providing generic apples? We may never know (click to enlarge)
It can be argued that In Icons is simply trying to make a quick buck off the outpouring of adulation following Jobs' all-too-early death, or – judging by the lovingly rendered quality of the 12-inch icon of the computing iCon – that there is some true admiration for the man informing their offering.
Or perhaps there's a royalty deal in the offing – after all, we can only assume that Beyonce Inc. gets a cut from each Barbie: Destiny's Child - Beyonce Doll that Mattel sells, and that Justin Bieber and his homes get a slice from the collection of Bieberphernalia sold by the partnership of Bravado and The Bridge Direct.
At the risk of sounding a wee bit irreverent, this all makes The Reg wonder how much the Twelve Apostles and their estates might have raked in over the past two millenia of the Nazarene's global popularity, if only they had retained Apple's legal team. ®