This article is more than 1 year old
Microsoft's RemoteFX is fab - but will it play Crysis?
We all need something to do between emails and build runs
Sysadmin blog Microsoft supports two very different types of remote desktop computing: Remote Desktop Session Host (RDSH) and Remote Desktop Virtualization Host (RDVH). Those of us who don't speak Redmondian know these technologies as Terminal Services and VDI, respectively.
But can they play Crysis?
RDSH takes a single instance of a server operating system and allows multiple people to log onto that operating system. RDVH is a 1:1 user-to-virtual-machine ratio. Everyone gets their own VM, whether set up as personal virtual machines or "hot desk" style connection-brokered VMs spun off of a "golden master [PDF]".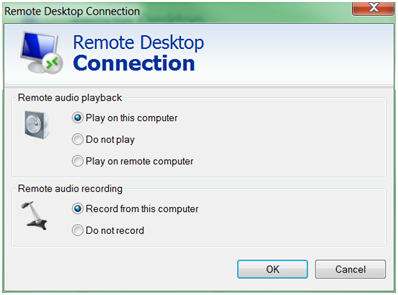 Flinging your media: remote audio settings for clients (Source: MSDN)
Windows 7 and later support multimedia redirection: this is the ability to stream the raw multimedia information to the client and use the client resources to decode it. This provides a superior multimedia experience with lower bandwidth if you are accessing your remote session from a fat client.
For thin client users, Microsoft has created RemoteFX.
There is a lot of confusion surrounding RemoteFX. It has the ability to offer 3D DirectX 9.0c 3D acceleration over a remote session. It offers USB redirection superior to the "default" shipped with Windows 7. And yes, you can play Crysis on that.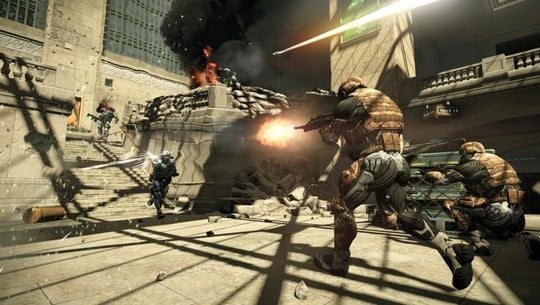 Stress test your network with Crysis
Virtual graphics processors versus real silicon
RemoteFX is more equal for some than others. RDSH is a loser here. While RDSH will benefit from some bitmap acceleration technologies, you will not get 3D acceleration in RDSH if you use RemoteFX. Most applications exclusively lock the GPU when they use it. Since RDSH is a shared environment, that usage case just doesn't work. RemoteFX or no, RDSH will not play Crysis.
To contrast, RDVH presents a virtual GPU to each virtual machine. Each operating system believes it has its own GPU, and things proceed as they would on your physical desktop. Perhaps too much as they would on the desktop; video drivers are apparently universally impossible to get right.
RemoteFX has poor support for OpenGL. Microsoft has some criticisms for nVidia and AMD here (about 27 minutes in), but also freely admits in the same video that the lack of OpenGL support boils down to the virtual graphics driver Microsoft chose to write for RemoteFX. DirectX 9.0c applications should theoretically work in RemoteFX. With some caveats; Microsoft doesn't consider things like video games or AutoCAD to be "primary use cases" for RemoteFX. It was designed specifically to offer "the full Windows experience" over a remote connection.
RemoteFX is a LAN-only technology. Microsoft's party line is that "a rich experience requires rich bandwidth". Though Quest disagrees.
RemoteFX requires a modern SLAT-capable CPU, a x16 electrical slot and a workstation-class video card. (AMD Firepro/FIrestream or nVidia Quadro.) You also need to be very aware of your GPU RAM; the higher the resolution of the clients (and the greater the number of monitors,) the more GPU RAM you will need. ®
RemoteFX also supports custom encoding/decoding ASICs. While 3D rendering is offloaded to the GPUs, the number crunching required to flatten each frame into a bitmap and fire it down the wire to the client is best handled by those custom ASICs.
Put it all together into a nice high-end server and you can play Crysis on a thin client... barely. It is certainly playable enough for the casual gamer doing the single player campaign. It is completely unusable for any twitch gamer; the frame rates would get me massacred in multiplayer.
Oh, and DRM-protected content doesn't work in either RemoteFX or the traditional Multimedia Redirection. No BBC iPlayer for you.
In the end RemoteFX plays the odd casual game, and delivers an absolutely top notch "Windows experience." It will play your stack of pirated videos without a problem, but will refuse to play most media you purchased for download or are attempting to stream legitimately.
RemoteFX is a really neat toy, but this is a Microsoft 1.0 product. Citrix's HDX and VMWare's PC-over-IP compete in the same space, and the war has only just begun.
Bring on 2.0. ®