This article is more than 1 year old
Samsung SSD 830
Sata 3 scorcher
Control issues
The major improvement of the new S4LJ204X01-Y040 chip over the one looking after the 470 is its Sata 3 6Gb/s interface. While old mechanical drives are hard pushed to get anywhere near the bandwidth limit of the original Sata specification, let alone Sata 3Gb/s, the same cannot be said for SSDs. The performance of solid state storage is now almost saturating the Sata 6Gb/s bandwidth limit – so much for future proofing.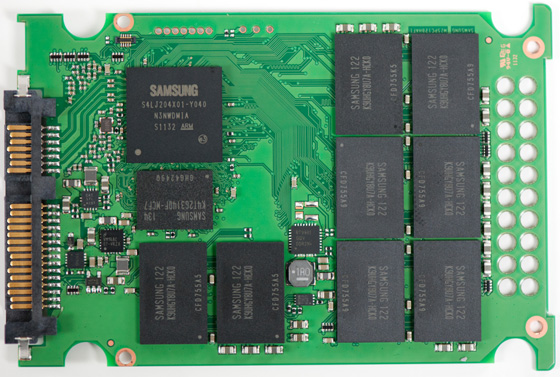 A homegrown controller and all the chips are one side of the PCB
Just like the 470, all the rest of the 830 internals are Samsung as well; eight 32MB NAND 25nm (K9PFGY8U7A-HC K0) memory chips provide the capacity while 256MB of on-board DDR2 cache helps with handling small files. All the chips are built on to one side of the PCB, unlike its predecessor that used both side of the board.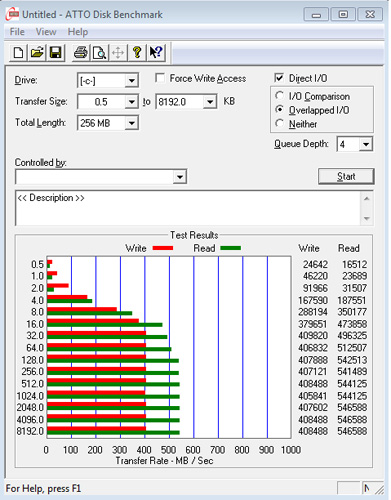 ATTO results
First off, I performed some real life testing up against one of its Sata 3, the OCZ Vertex 3 equipped with the latest Sandforce controller. Installing Windows 7 64-bit from a USB DVD drive took 14mins for both drives. Installing MS Office 2010 Pro proved quicker on the Samsung at 4mins 20s, the OCZ trailing behind at 4mins 30s.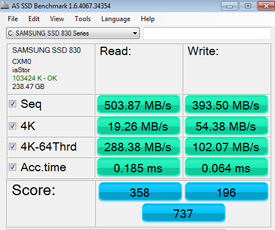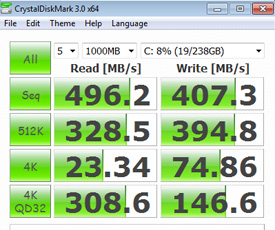 AS SSD and CrystalDiskMark 3 scores
When copying 100GB folder of mixed sizes and types of files the performance of the drives was more in pronounced. The Samsung 830 clocked up 9mins 50s, the OCZ Vertex 3 rolled in at 12mins 24s and just for good measure I checked out the Sata 2 Samsung 470 too, which took 23mins 15s.