BSkyB nabs stake in telly babble app biz Zeebox
Multi-million pound tie-up to study viewing habits
---
BSkyB has taken a 10 per cent equity stake in social telly chitchat app Zeebox.
Anthony Rose's interactive TV venture launched last October, yet Sky has already bought into the business. The broadcaster said it would offer "unique 'augmented' TV viewing features" to its customers in the first half of this year.
Rose - who rescued the BBC's iPlayer, was one-time tech boss of YouView and previously was CTO at Kazaa - has agreed exclusive terms with Sky, which plans to integrate Zeebox tech with its apps, including Sky+ and Sky Go.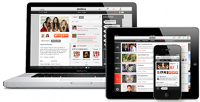 Zeebox: let nan know what you think of
latest Corrie hijinks
The service plugs punters directly into social chatter via Twitter and Facebook - it effectively acts as an online water cooler around which you can praise or pick apart telly programmes with like-minded viewers as you watch.
On top of that, Zeebox - which uses tags to allow people to search for popular topics, programmes and so on - continuously relays what's being watched on the nation's goggle boxes, the idea being that data can be aggregated for advertisers and TV companies.
It's that final point that has most likely got Sky exec's drooling over Zeebox, which appears to pitch itself as a slightly more intelligent TV app for Apple's iPhone and iPad.
At launch, Zeebox was missing a key ingredient: the ability for users to record programmes and then retrieve the shows later. Sky said its customers will, later this year, be able to manage Sky+ recordings remotely thanks to a Zeebox-powered app. They will also be able to use their iPhones or iPads as a remote control for their Sky box.
"As part of this multi-million pound strategic partnership, Sky has become an investor in Zeebox and has taken a 10 per cent equity stake, providing funding to support the company's future product roadmap and global rollout plans," said Sky, which is part-owned by Rupert Murdoch's News Corp.
Under the agreement, Sky Media - the ad wing of BSkyB - also gets an exclusive sales deal as the sole agent for Zeebox's synchronised advertising inventory. Despite the huge Sky investment, Zeebox will remain independent, allowing rival broadcasters to use the interactive television portal.
"Sky took an early position of leadership with companion devices, having recognised the demand from our customers to use second screens to discover, enjoy and interact with their favourite content," said Sky's emerging products director Emma Lloyd.
"The integration of Zeebox's innovative technology will enable us to make the companion device experience even richer and more engaging. We know that millions of our customers have smartphones and tablets and regularly use them to engage with Sky on mobile devices, so it's a natural next step for us."
Zeebox's co-founder Ernesto Schmitt said that the cash injection from Sky meant that the company could work on expanding its product internationally. ®