This article is more than 1 year old
Huawei uncloaks sleek, slim, sexy smartphones
'World's slimmest' handset - iPhone killer?
CES 2012 Chinese telecom giant Huawei has unveiled a pair of high-end Android smartphones, including one that it dubs "the world's slimmest smartphone" – and at a mere 6.68mm, it's a skinny li'l fellow, indeed.
The Huawei Ascend P1 S, like its 7.69mm sibling, the Ascend P1, runs Android 4.0, aka Ice Cream Sandwich. Both are powered by a dual-core Texas Instruments OMAP 4460 Cortex-A9 processor running at 1.5GHz, joined by an SGX 540 graphics engine.
Both handsets have a 4.3-inch, 960-by-540 Super AOLED qHD display protected by Corning's hardened Gorilla Glass, and the PS 1 manages to stuff that display into a body that's just 6.48mm wide. At that width, the metal-frame bezel on the right and left of the display is exceptionally thin.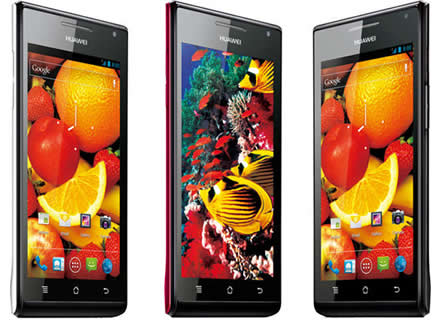 Chinese telecom giant could force Apple to put the iPhone on a diet
Both phones provide a broad range of UMTS/GSM 3G and HSPA+ 4G connectivity capabilites, and Huawei chairman Richard Yu promised his audience at the phone's rollout on Monday at the Consumer Electronics Show in Las Vegas that his company's 20 years-plus experience in mobile infrastructure gives them a leg up in providing quick, clear connections. "We know the network," Yu noted, modestly.
Yu also claimed that the new handsets' 1670mAh and 1800mAh batteries will provide a 30 per cent increase in battery life over competing smartphones, and that their OMAP processors make the devices "the fastest in their class."
The phones are also equipped with Dolby Mobile 3.0 Plus 5.1 surround sound. "Now you can take your home theater music system away with you – a really fantastic user experience," Yu boasted.
Also notable is the software provided along with the phones' 8-megapixel, 1080p HD video–capable, rear-facing camera (a 1.3 megapixel front-facing camera supports video calls). Among other tricks, the software offers face-distortion fun à la Apple's Photo Booth, panoramic image-stitching, in-camera image editing, low-light enhancement, and improved close-up images.
One feature of the camera and its software that we found especially intriguing is the ability to automatically take five shots of a group of people and have the phone's face-recognition technology choose which image includes the best shot of each subject – eyes open, for example – in the five-photo group and combine them into a single image.
Other specification nuts and bolts include 4GB ROM and 1GB RAM (expandable to 8GB with a microSD card), Bluetooth 3.0 HS, 802.11b/g/n Wi-Fi, HDMI, dual-microphone noise reduction, PDF and PowerPoint editing, dual LEDs for its rear -facing camera, and the near-ubiquitous compass, accelerometer, and gyroscope. You can choose black, white, or "cerise" – aka red.
Yu didn't announce any carrier partners, but said that the Ascend P1 and P1 S would be available in April. Although carrier-subsidy deals have yet to be cut - or, at least, announced - he estimated that the phone would likely be priced at around $400. Both phones will be available in China, Europe, Asia-Pacific, North America, Australia, and the Middle East at launch.
In the limited time we had to handle the P1 S, it seems that Huawei is jumping into the high-end smartphone market with both feet, and landing in a quite attractive location – the phone is solid, sleek, swift, and sexy. There's a manufacturer of a relatively chubby (9.3mm) and less-capable smartphone in Cupertino, California, that might want to look to its shiny-shiny laurels. ®