Sleepless flash drive supplier OCZ, known for constantly spraying out new products, has gone and bought SANRAD for its virtualised server flash cache usage software.
OCZ makes two kinds of flash products: solid-state drives (SSDs) and PCIe flash cards. It isn't well-known as a supplier to enterprises but wants to be one. SANRAD, founded in 2000, makes a flash-based accelerating appliance sitting in front of SANs, the V-Switch XL, and, the stuff that really turns OCZ on, VXL software to farm out server flash to virtual machines: VMware, Hyper-V and Citrix Xen ones.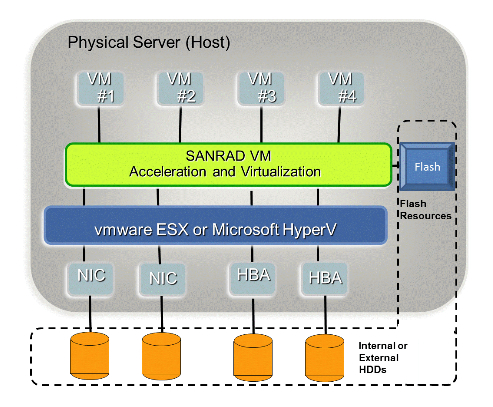 SANRAD VXL schematic.
Think about it. A server has a slug of flash, like 960GB of OCZ RevoDrive or up to 12TB of its Z-Drive R5 and the server's virtualised and running virtual machines (VMs) - then along comes the VXL software which runs in the hypervisor.
It farms out blobs of flash to the VMs and puts their data in it in an application-aware way. These VMs, which all share the flash as a cache, see an accelerated virtual volume. There is no need for any SANRAD agent software to run in the VMs; they simply see a SCSI volume.
If a VM with apportioned flash is then moved with vMotion to another ESXi machine the flash contents move with it because cached data in flash is treated as a virtualised storage entity and can be shunted about, OCZ says, without performance loss and without powering down the server. It is the only server flash caching solution that supports vMotion in this way, according to OCZ.
Stifel Nicolaus analyst Aaron Rakers says: "[VXL] supports enterprise-class storage datacenter requirements such as QoS, high availability clustering, mirroring, WAN replication, snapshots and multiple storage virtualisation functions."
He sees "this acquisition as a competitive move relative to Fusion-io's prior acquisition of IO Turbine in which Fusion-io acquired the ioCache hardware/software to extend the company's caching and data acceleration capabilities for VMware ESX, Hyper-V, and Xen".
For OCZ it means that virtualised servers fitted with its PCIe flash and the VXL software can run more VMs. The product also works with SSDs plugged into servers as well as PCIe flash. It strengthen's OCZ's server offerings a day or so after it announced its up-to-12TB Z-Drive R5 PCIe server flash offering using Marvell controller modules.
SANRAD also brings StoragePro management software to OCZ. With it IT admins can manage a single virtual pool of storage. Interestingly OCZ's announcement makes no mention of SANRAD's V-Switch XL, suggesting that OCZ has little interest in selling accelerating flash appliances in front of SAN storage arrays.
We're still receiving grumbles about OCZ's consumer flash reliability. Hopefully the firm is well aware that reliability and support in the enterprise space are paramount.
In terms of server flash and allied software Fusion-io and OCZ are the two firms making the running today. No server firm is being as adventurous as either company in this regard, which is curious, although we do understand Dell is working in the server flash area and looking at server flash as another storage tier.
TMS is starting down the software route but looking for an investing partner or acquirer. EMC (with its Project Lightning), Kaminario, Micron, TMS and other PCIe flash suppliers had better get into server flash usage software because raw flash hardware is going to become a commodity and software is the key to adding value and commanding non-commodity profit margins.
OCZ paid $15 million for privately-owned SANRAD with its OCZ stock and didn't use cash. ®