CES 2012 One Laptop Per Child (OLPC) has been showing off the first models of its XO 3 tablet at the Consumers Electronics Show in Las Vegas.
The 8-inch tablet uses the 1GHz Marvell ARMADA PXA618 processor, 512MB of RAM and comes with a 1024x768-resolution LCD, or a lower cost Pixel Qi sunlight-readable display. Connectivity is via an Avastar Wi-Fi system-on-chip and the tablet can be hand-cranked for power, or there's an optional solar cell contained in the tablet cover, and additional power supplies may be possible.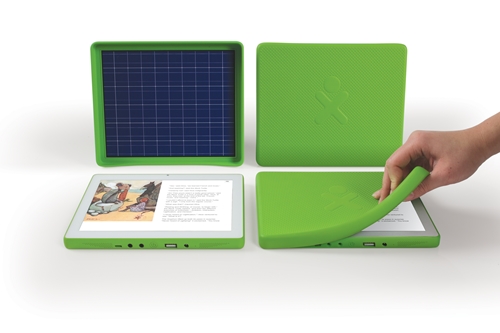 Solar cover can save wrist power
"We're proud to introduce the XO 3.0 tablet, showcasing the design, durability and performance features that make it a natural successor for our current laptops," said Ed McNierney, CTO of OLPC in a statement. "The XO 3.0 builds on many of the technology breakthroughs we made with the XO 1.75, including the use of the Marvell ARMADA PXA618 processor, resulting in a significant decrease in power consumption-a critical issue for students in the developing world."
OLPC said that the tablet could be configured with either a Linux or Android operating system and will be sold exclusively to governments and aid organizations; although in the past the group has made its hardware available in Western markets in exchange for a donated system. The lowest cost tablet is expected to be around $100, although that would rise if Microsoft's lawyers decide to extract an Android patent tax.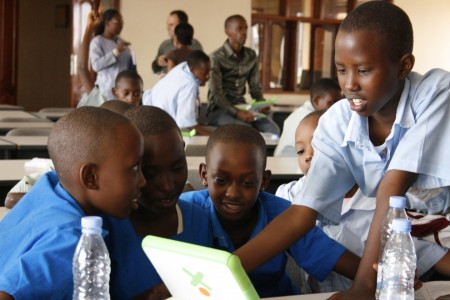 "Miss, we've got an email from Microsoft's lawyers!"
It is tablets like these that will be dropped by helicopter into remote villages as part of an research project by Professor Sugata Mitra into machine learning, that will test if people can teach themselves to write and use the internet without instruction. The project could revolutionize literacy programs around the world.
The Marvell processor is also being used on the new generation of XO 1.75 laptops, which the organization says will begin shipping in March. The new systems are twice as fast as previous models, but use half the power, and more than 75,000 units have already been ordered by Uruguay and Nicaragua. ®
Similar topics