Microsoft's veteran server and tools chief punches eject
Office man steps in
---
The veteran running the business side of Microsoft's Windows server and tools software is leaving after 16 years.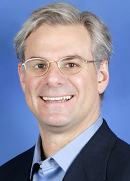 Robert Wah(na)be out of
Redmond...Pic from
Microsoft.com
Corporate vice president Robert Wahbe is leaving Microsoft at the end of next month, according to an updated version of his corporate biography here.
Wahbe is responsible for all product and business management for Windows Server, SQL Server, Visual Studio, System Center, and Forefront – meaning he's in charge of pricing, packaging, branding and advertising. Microsoft's $15bn Server and Tools group is also home to Microsoft's cloud effort, Windows Azure.
There was no word on why Wahbe is leaving or where he's going, while it's reported here he is being replaced by Office product management group corporate vice president Takeshi Numoto.
Wahbe joined Microsoft in 1996 and currently reports to S&T division chief Satya Nadella who was appointed group president in February 2011.
Nadella himself replaced another veteran: Bob Muglia, who had been with Redmond for 23 years and had fallen out with Microsoft's chief executive Steve Ballmer over Windows Azure. Ballmer had wanted more of a sales push made on Windows Azure following a massive re-organisation of the S&T division in 2010 aimed at making money from Microsoft's cloud.
Despite bringing product people to Azure from other parts of S&T, Microsoft's cloud seems to have gone rather quiet lately. Also, Microsoft has recruited Scott Guthrie, the man who delivered its Silverlight player, to nail down the developer tools side of building for Azure.
Wahbe's exit comes as Nadella plans to announce its vision for System Center 2012 – with the announcement expected next week. Nadella is expected to push System Center 2012 as a component for running private clouds. ®