Samsung shows 55in OLED über-TV
Dual-core, app-tastic and motion-controlled
CES 2012

Samsung has followed fellow South Korean giant LG to unveil a 55in OLED TV at the Consumer Electronics Show (CES). This one has motion and voice control.
Naturally enough with showcase products like this, Samsung didn't discuss pricing, preferring to talk up the telly's panel specs in comparison with current flat panels.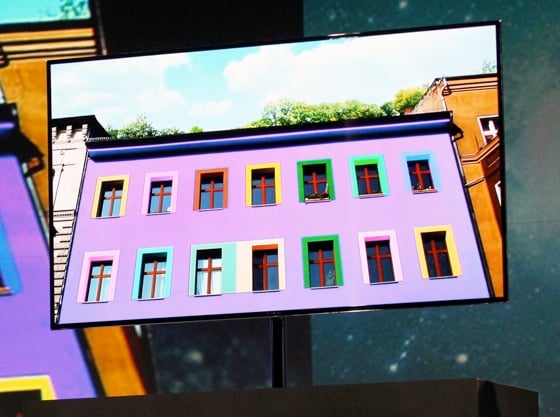 So, it said, there's no colour filter, because the panel, formed on a single pane of glass - well, it would have to be - has red, green and blue light-emitting sub-pixels. It's colour reproduction is 40 per cent more accurate than an LED-backlit LCD, and its response time is 1100 times better, "virtually eliminating motion blur".
Got that?
From a practical standpoint, then, it presents a better, smoother moving picture than an LCD, but costs ten times as much, probably. It will go on sale worldwide "later this year", Samsung promised.
Samsung said the OLED TV will feature all of its smart TV features, including its new Smart Hub UI, running on the set's dual-core processor. It also has an intergrated webcam, not just for communications but also for Xbox Kinect-style movement recognition.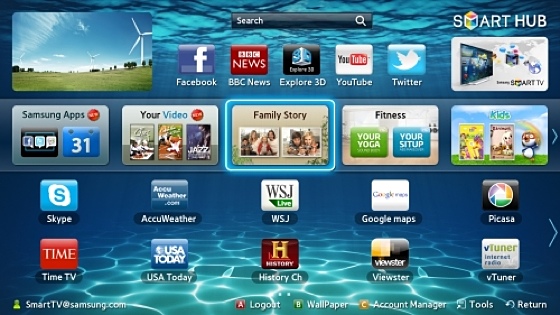 Smart Hub UI
It'll be voice controlled too: two unidirectional array microphones recognise voice, while noise cancellation tech helps to separate background noise from the user's commands.
The 3D-capable telly will be able to access content from your DLNA-equipped Nas box, if you have one. ®