Opera's new store beams HTML5 apps into tellies
Facebook and Vimeo squeezed into punters' TV time
CES 2012 Opera Software is making a play for turning your TV into a window-on-the-web with the announcement of Opera TV Store.
The browser maker's unveiled e-shop will flog HTML5 apps that you can use from your TV. The idea is to make it possible to access web content and apps using your existing HD-TV and remote controls, without needing to hook up a media centre or keyboard.
Opera said in a release: "By introducing easily navigated HTML5 apps such as Facebook or Vimeo to your living room, it expands your TV entertainment options." Opera TV Store was unveiled at the Consumer Electronics Show (CES) in Las Vegas on Monday.
The cloud-based Opera TV Store comes as rival browser-maker Google last October revamped its Google TV. This combines web, TV and films, and the Android Market through Google's Chrome browser with Android running on the hardware.
Opera TV Store features the familiar - to Opera's browser users - Speed Dial page that lets you add favourite web sites as on-screen icons and click them for access. You can also resize the applications and receive notifications if something has happened in an app when you've got it running in the background.
Like Linux shop Canonical, which announced Ubuntu TV at CES, Opera is making a heavy play for partners - device makers, developers and content partners.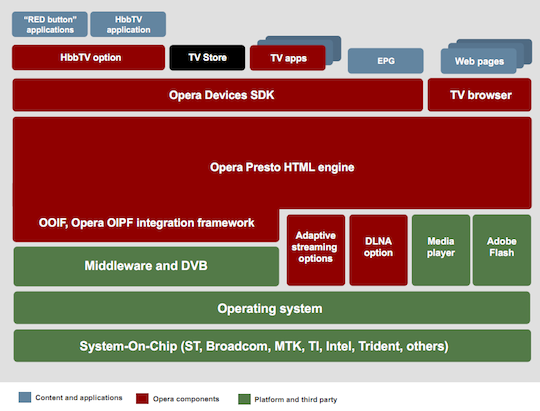 How the Opera TV Store fits together. Credit: Opera
Opera said its store can be installed by OEMs on "any" set top box, Blu-ray player or HD-ready TV - provided they've got the connectivity, software and enough oomph to render the HTML5 apps. Devices that have integrated the Opera Devices SDK will be capable. Hardware makers and content providers have been asked to contact Opera, here.
Developers get an Opera TV emulator that can run inside VirtualBox and lets them build, test and debug apps for the TV from a PC. There's also Opera's HTML and Javascript Dragonfly development tool set.
You can watch the Opera video plug for its store, set in a perfectly proportioned computer-conceived Scandinavian bachelor pad, here. ®