This article is more than 1 year old
Billions of potentially populated planets in the galaxy
Loads of Earthlike worlds in the habitable zone around stars
There are billions of habitable planets in the Milky Way where aliens could be having their tea right now, according to a new six-year study.
"Our results show that planets orbiting around stars are more the rule than the exception. In a typical solar system approximately four planets have their orbits in the terrestrial zone, which is the distance from the star where you can find solid planets." said astronomer Uffe Gråe Jørgensen from the Niels Bohr Institute.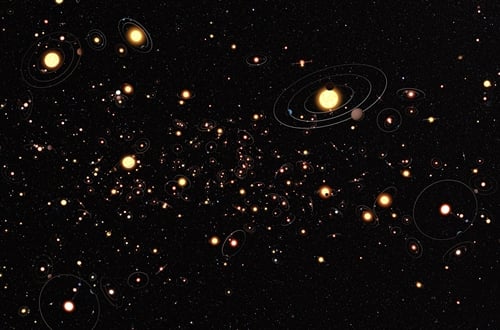 Turns out the galaxy is more crowded than we thought
Star-gazing boffins from PLANET, the Probing Lensing Anomalies Network, used the gravitational microlensing technique to spot the worlds lying in the habitable zone around a star, which differs from the 'transit' method used by NASA's Kepler mission.
The 'transit' way to find planets looks for dips in the brightness of a star that would show that a planet had passed in front of it. But planets that are either very far or very close to their star can be missed by this technique.
Microlensing uses one star as a 'lens' to amplify the light from a star behind it. If one star passes precisely in front of another, the gravity of the one in front bends the light from the one behind. If there's a planet orbiting the front star, that can produce additional brightening, which reveals the planet.
Microlensing events from a star alone last around a month, but if there's a planet involved, the extra brightening goes on for a few hours or days.
There's also a third method of detection, known as the radial velocity method, which measures how much a star rocks in small circular motions due to a revolving planet's gravitational force.
The microlensing process can tell boffins the mass of the planet, but unfortunately, it can't give the scientists any idea of what that world is made of. Just because a world is within the habitable zone, doesn't necessarily mean it will have the life-giving composition of our own planet.
"Together, the three methods are, for the first time, able to say something about how common our own solar system is, as well as how many stars appear to have Earth-size planets in the orbital area where liquid what could, in principle, exist as lakes, rivers and oceans - that is to say, where life as we know it from Earth could exist in principle," said Jørgensen.
Of the 40 or so microlensing events the astronomers studied, three showed evidence for exoplanets. Statistically, the research team extrapolates that one in six stars has a Jupiter-sized planet, half have one the same mass as Neptune and two-thirds have an Earth 2.0.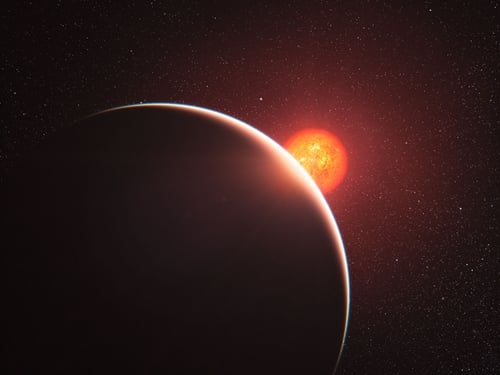 Two thirds of stars could have Earth-sized planets
"This means, statistically, every star in the galaxy should have at least one planet, and probably more," said Kailash Sahu, of the Space Telescope Science Institute in Baltimore.
"Results from the three main techniques of planet detection are rapidly converging to a common result: Not only are planets common in the galaxy, but there are more small planets than large ones," said Stephen Kane, a co-author from NASA's Exoplanet Science Institute. "This is encouraging news for investigations into habitable planets."
The studies combine to tell us there are plenty of planets with the right temperature to support life, but whether the other building blocks are around or not remains to be seen.
"There are so many unique events in our solar system that have created the basis for the development of life on Earth," Jørgensen said.
"Comets brought water to our planet so that life could arise and a series of random events set in motion an evolution that lead to humans and intelligent life. It is very unlikely that the same circumstances would be present in other solar systems."
But just so we're not totally disappointed the continual absence of proof of aliens, he added; "perhaps other coincidences in other solar systems have led to entirely different and exciting new forms of life".
The research has been published in this week's Nature.®