Lenovo to ship first Intel smartphone – in China only
Motorola not far behind
---
CES 2012 The first Intel-based smartphone has been unveiled, but don't go looking for it at AT&T, Vodafone, Verizon, or Orange. When the Lenovo 800K ships in the second quarter of this year, you'll have to get yours from China Unicom.
"Today, I'm thrilled to announce that the best of Intel's computing is now coming to smartphones," Intel president and CEO Paul Otellini told his CES keynote audience on Monday afternoon. "And it's coming first to China, the largest market for smartphones in the world, with 100 million users and growing rapidly."
Liu Jun, president of Lenovo's company's mobile internet and digital home group, joined Otellini on the keynote stage for the announcement. "It is my great honor today," he said, "to introduce to you the world's first Intel architecture–based smartphone, the Lenovo Smartphone K800."
"We are transforming Lenovo from a leading personal computer company to a leading peronal internet device company," Liu said.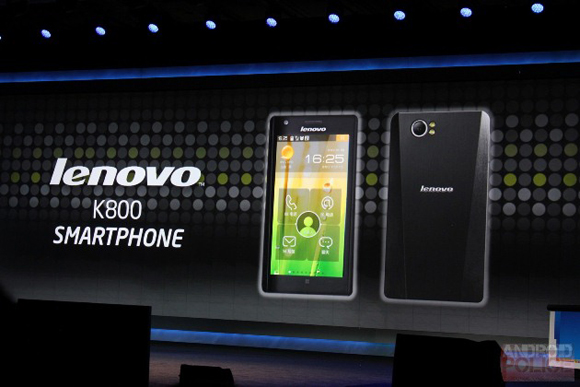 The Intel-based Lenovo K800 makes its debut on the CES keynote stage (source: Android Police)
Liu described the K800 as "simple, stylish, and feature-packed." Among those features are a 4.5-inch display, 720p video, HDMI-out, near-field communication (aka NFC), and Intel wireless display technology to stream video to a compatible HD TV. More details are sure to emerge in the run-up to release.
Otellini claimed that 32nm "Medfield" Atom processor provides significantly better JavaScript and browser-rendering performance than its ARM-based competition, and Liu promised that the K800's battery life is comparable to smartphones in its class despite the increased performance.
As Liu spoke, Otellini stood beside him, beaming – and he had good reason to smile. Intel has been trying for years to reduce its chips' power consumption sufficiently to prompt a smartphone manufacture to include Chipzilla's chippery in handsets. Now, with the Lenovo K800, they've finally succeeded.
Lenovo's Liu may have been the only manufacturer who could wave an about-to-ship Intel-based smartphone at the keynote, but Sanjay Jha, chairman and CEO of Motorola Mobility, joined Otellini to tell the crowd that his company is not far behind.
"I am especially proud to announce today that Motorola and Intel have entered into a multi-year, multi-device strategic partnership around mobile devices and smartphones," he revealed.
Jha said that his company plans to have devices in carrier validation this summer, with commercial launch shortly after that. "Stay tuned for the details in coming months," he added.
ARM-based smartphones finally have real competition – although, of course, exactly how real is a question to be answered only after users get their hands on Intel-based phones in coming months. ®