Pure Highway 300Di in-car digital radio kit
Beep-beep, yeah!
---
Review

Since 2008 Pure has offered its relatively cheap first-generation DIY upgrade kit to add DAB radio and more besides when motoring. Now comes the second generation Highway, with an improved aerial and two-part combo of a main 'interface' unit, which is fitted under the dashboard near the car's existing radio, and a detachable controller/display.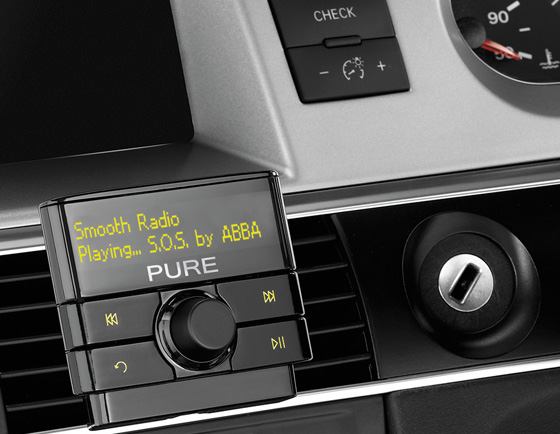 Dashboard widget: Pure's Highway 300Di
While a growing number of new cars have digital radios as standard or as an option there remains a vast number of legacy vehicles that aren't DAB-ready unless the whole head-end is replaced and Pure's Highway 300Di is made for these 'vintage' vehicles.
It's a neater, more sophisticated proposition that is installed by an engineer in a roughly hour-long process. Until March 2012 it's exclusive to Halfords. After then it will spread to other retailers, probably including your friendly local indie dealer. Installation prices may vary but expect to pay from about £25.
The benefit of going down the installation route is that most of the hardware is hidden away. The supplied antenna has been designed to improve DAB reception too. It uses the roof as a grounding plane, while active amplification compensates for signal loss as it passes through the glass. A conventional antenna is available for cars with soft-top or aluminium roofs.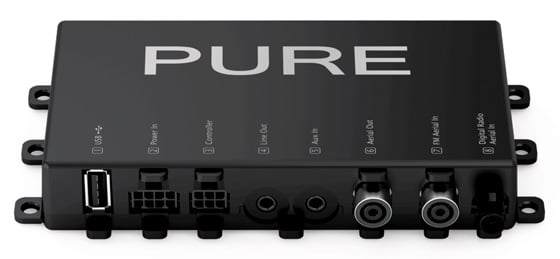 Audio and antenna interfacing abounds
In the weeks since I had it installed it's certainly been impressive, even retaining a good signal throughout a 350-mile round trip from the Midlands to Dorset. Since then I've only experienced a couple of brief DAB signal interruptions and unsurprisingly those happened in low lying rural areas.