This article is more than 1 year old
X-Dream Rocker wireless gaming chair
Are you sitting comfortably?
Review

With a design lifted straight from Gerry Anderson's Thunderbirds school of home furnishings, the X-Dream rocker is not your average game-playing bench. It's a lads-mag throne with integrated stereo sound system, subwoofer, pseudo-Shiatsu vibrator and wireless audio system.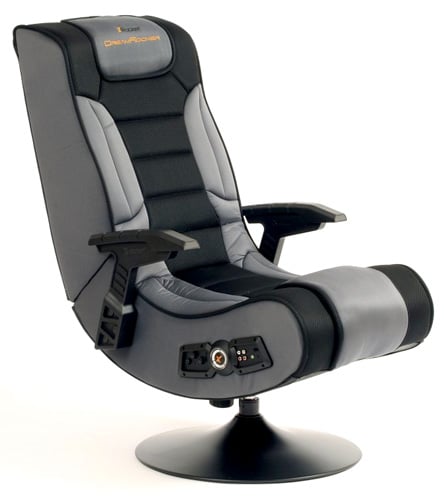 While away the hours wirelessly in the X-Dream Rocker
Visually, it looks the business, well, in a nerdy kind of way, but the harsh reality is that you need legs like pipe cleaners to feel truly comfortable, thanks to an oddly centralized knee cushion. The drop is a standard 46cm. 

Still, the stitched-in sound system may prove adequate compensation – and you can always add your own pouffe to negate the problem.
The seat's wireless audio option adds considerably to the X-Dream Rocker's appeal, as it means the only cable you need worry about comes from the seat's power adaptor. A small battery-powered transmitter features a single 3.5mm stereo audio input, so pretty much any source component (games console, PC, DVD player, set top box) can be connected. Using the low-rent 863-864MHz band, the transmitter then outputs to one or many chairs in its reception vicinity.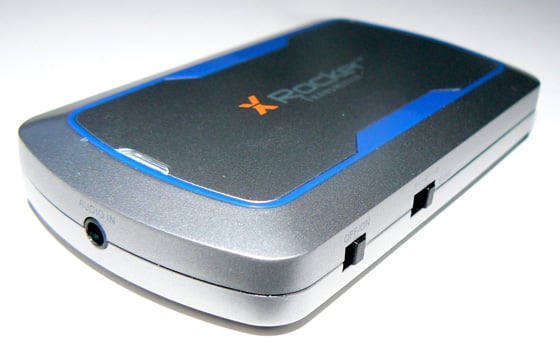 Wireless transmitter
The X-Dream Rocker is undoubtedly well made. There's no leather involved, just brushed fabric upholstery and plastic arm rests, but the finish is excellent. Be warned though that a certain amount of self assembly is required, to fix arms and secure the seat to its pedestal. While the chair rocks back and forth, it does not lock in a reclining position. This makes it a bit rubbish for watching movies.