This article is more than 1 year old
Samsung Remote
AV kit control over Wi-Fi
iOS App of the Week

We've reviewed a number of gadgets, such as the Gear4 Unity Remote, that allow you to use an iOS device as a universal remote for your TV and other AV kit. iDevices don't have IR transmitters built into them so the Unity and its rivals all have to encompass both an app and a separate piece of hardware that acts as an IR beamer – and which also bumps the price up too.
However, more and more TVs, Blu-ray players and set-top boxes now have network connectivity, which means that it's possible to transmit commands to these devices over your Wi-Fi network, bypassing IR altogether. This has allowed TV manufacturers such as Samsung to release free remote control apps of their own.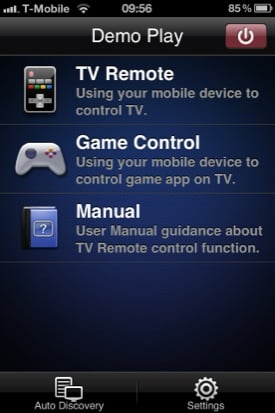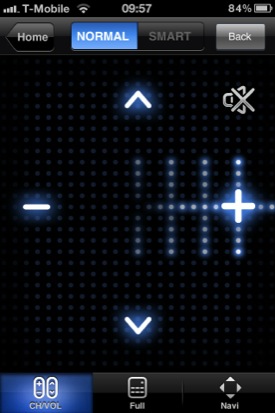 Samsung Remote's UI is intuitive, and the swipe-to-contol Simple Mode (right) a doddle to use
Most of the big-name manufacturers have released apps of this type in recent months, but Samsung Remote – which runs on Android as well – seems to be particularly well thought out.
You don't have to do anything to set up the app as it can automatically detect any compatible Samsung devices on your network. There's a list of supported devices in the iTunes App Store.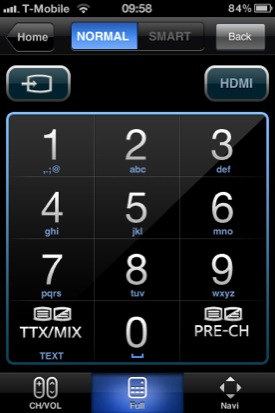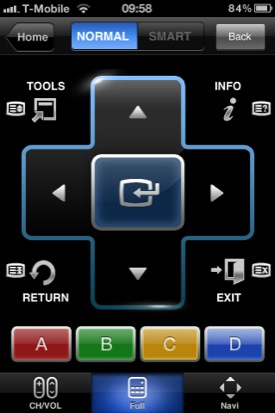 Full Mode can issue the same commands as a standard Samsung remote
The remote control features work in two modes. The Simple setting allows you to adjust the volume just by flicking your finger up or down on the screen, or to step through the list of channels by flicking left or right. It's ideal for slobbing out on the sofa.
Tapping the button for Full mode provides a complete set of controls of the kind that you'd find on your normal Samsung remote control.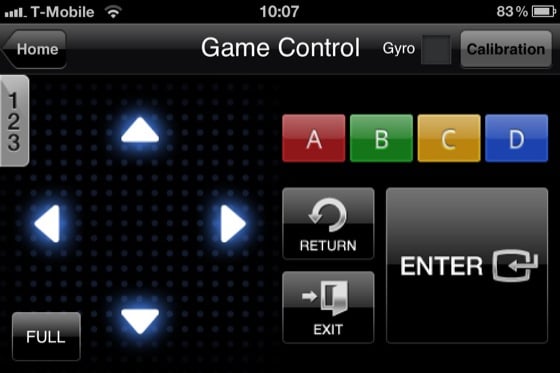 There's even a gaming mode for entertainment apps on Samsung's smart TVs
There's also a Game Control mode that allows you to use the iPhone as a motion-sensitive gamepad, for use with the various apps and games that Samsung includes with its smart TVs.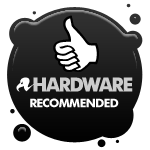 Of course, the one drawback of these remote control apps is that they're manufacturer-specific. So you're scuppered if you use a Samsung TV with, say, a Panasonic Blu-ray player. You could download both the Samsung Remote and Panasonic Blu-ray Remote and see how you get on switching between them – or just wait and see if some enterprising developer comes up with an app that can download control codes for devices from multiple manufacturers. ®
We make our selection of the best iPhone, iPod and iPad downloads every Thursday. It you think there's an app we should be considering, please let us know.
More iOS App of the Week Winners

Sleep Cycle
Dermandar
Panorama
KitchenPad
08 Wizard
Hailo

Samsung Remote
A useful remote control app for Samsung's connected-TVs and Blu-ray Disc players.