This article is more than 1 year old
Best-selling games of 2011 revealed
Guess which

With World+Dog's attention focused on the new gadgets on show at CES this week, games trade organisation UKIE decided the time was right to reveal which were the UK's top selling games of 2011.
It should come as no surprise who shot to first place.
For the third year running, Activision's Call of Duty series snapped up the accolades as best-selling game of the year, this time through Infinity Ward's Modern Warfare 3.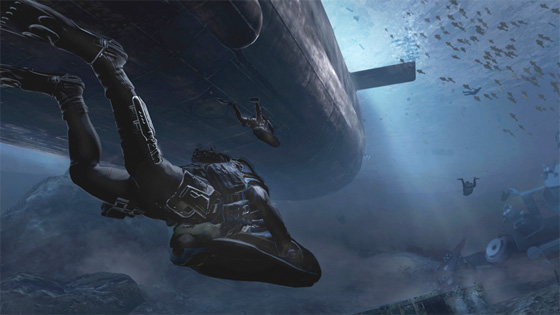 Sales went swimmingly
EA held onto the next two places in the all formats charts, with Fifa 12 and Battlefield 3 respectively, while a surprise entry for 505 Games' Zumba Fitness jogged into fourth ahead of Bethesda's The Elder Scrolls V: Skyrim.
Most of the all-formats top-ten sellers were launched in Q4, which apparently meant for the first time ever, over half of the annual software sales revenue was collected in the final quarter of the year.
Check out the figures below for the full top ten and a list of top fives within each individual platform. ®
All formats bestsellers
1. Call of Duty: Modern Warfare 3
2. FIFA 12
3. Battlefield 3
4. Zumba Fitness
5. The Elder Scrolls V: Skyrim
6. Just Dance 3
7. Assassin's Creed: Revelations
8. LA Noire
9. Saints Row: The Third
10. Batman: Arkham City
PC bestsellers
1. Football Manager 2012
2. Football Manager 2011
3. The Elder Scrolls V: Skyrim
4. The Sims 3
5. Battlefield 3
Xbox 360 bestsellers
1. Call Of Duty: Modern Warfare 3
2. FIFA 12
3. The Elder Scrolls V: Skyrim
4. Battlefield 3
5. Gears of War 3
PS3 chart
1. Call Of Duty: Modern Warfare 3
2. FIFA 12
3. Battlefield 3
4. Uncharted 3: Drake's Deception
5. Assassins Creed: Revelations
Wii bestsellers
1. Zumba Fitness
2. Just Dance 3
3. Just Dance 2
4. Mario Kart Wii
5. Wii Sports Resort
3DS bestsellers
1. Super Mario 3D Land
2. Mario Kart 7
3. The Legend of Zelda: The Ocarina of Time 3D
4. Nintendogs + Cats: Golden Retriever
5. Rayman 3D