Gartner: Ultrabooks aren't tickling anyone's fancy
Just as world PC market shrinks 1.4% in Q4
---
The global PC market contracted in the last three months of 2011 and Ultrabooks failed to take off, Gartner's preliminary results showed yesterday.
A rise in the demand for PCs during the quarter in both Asia and Latin America was not enough to offset the drop-off when compared to the same period in 2010 in the United States (6 per cent); Europe, the Middle East and Africa (9.6 per cent); and Japan (2.3 per cent).
Over 92 million computers were sold in the last quarter of 2011, but that marks a global decline of 1.4 per cent compared to the same three months last year. However, over the entire financial year the PC market grew slightly in 2011 compared to 2010, increasing by 0.5 per cent.
Lenovo storms to success
In the US, Apple's share was up from 9 per cent in Q4 2010 to 11.6 per cent in Q4 2011, a year-on-year growth of 20.7 per cent. But Cupertino didn't show up on the global vendor rankings, which only list the top five PC vendors: HP, Lenovo, Dell, Acer and ASUS.
Lenovo and ASUS were the big winners globally, with Lenovo posting gains of 20.7 per cent and threatening HP for the top spot after relegating Dell and Acer to third and fourth positions earlier this year. Gartner put Lenovo's success down to aggressive pricing and acquisitions of NEC and Medion.
Dell managed to hold steady, with dips in its consumer market offset by gains in its professional sales.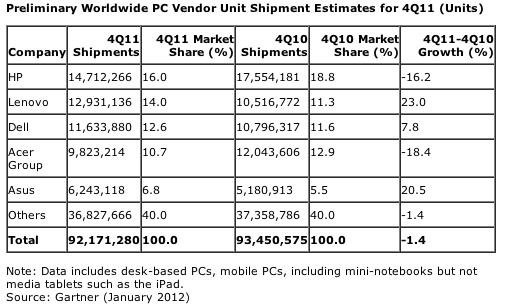 Other trends
As for the emerging PC buzzword of the year, the Ultrabook didn't make much of an impact. Gartner analyst Mikako Kitagawa said of the super-slim laptops: "Ultrabooks were quietly introduced into the market during the 4Q11 holiday season. Ultrabooks didn't seem to draw consumers' attention. Consumers had very little understanding and awareness of Ultrabooks, and only a small group of consumers was willing to pay the price premium for such models."
The spreadsheet wizards added that hard disk drive shortages caused by the flooding of fabs in Thailand will continue to impact PC sales and prices into 2012. ®