Sun Microsystems used to be the dot in dot-com, and sold billions and billions of dollars of Sparc/Solaris gear during the first waves of the commercial Internet build out.
While Oracle cannot repeat that history, because of the advent of the commodity x86 servers and commercial Linux distros, Oracle nonetheless can sell ruggedized, carrier-grade Sparc/Solaris machines to telcos and service providers and continues to enhance its Netra line of machines to keep these customers shelling out the clams.It can also sell Sun Fire Xeon servers and Oracle Enterprise Linux to carriers if they are so inclined, of course.
But like Sun, Oracle likes the fat margins that its Netra machines carry and thus is upgrading the line with its eight-core Sparc T4 processors.
The general-purpose Sparc T4 servers were launched last September, using the same rack and blade system boards as the prior Sparc T3 servers that employed the 16-core Sparc T3 chips. The Sparc T4 chips have half the number of cores as the Sparc T3s, but as El Reg explained in great detail ahead of the Sparc T4's debut, the newer S3 cores run at nearly twice the clock speed as the S2 cores used in the Sparc T2 and T3 processors. They also use a more sophisticated threading model that allows for single-threaded applications to run better on the boxes than prior generations of Sparc T series chips - up to five times better, according to Oracle's benchmark tests.
Back in September, Oracle announced four regular Sparc T4 machines – three racks and a blade server – and the Netra line is getting two rackers and a blade. This machine is a 2U server with a single processor socket that has the option of an eight-core T4 chip running at 2.85GHz or a T4 chip with only four cores working (and costing less money) at the same speed.
All of the general-purpose Sparc T4 machines only had eight-core chips running at 2.85GHz or 3GHz. The machine has 16 DDR3 main memory slots, and supports 4GB, 8GB, and 16GB memory sticks up to a maximum of 256GB total. The system has four Gigabit Ethernet ports on the system board and two optional 10GE ports that hang off the network controllers on the T4 chip.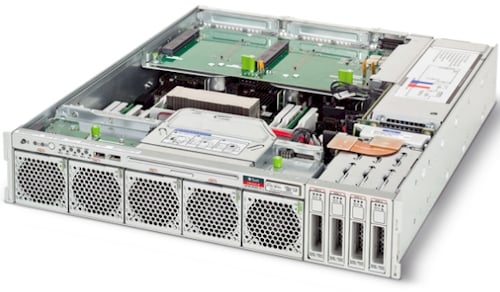 Oracle's Netra Sparc T4-1 carrier-grade server
The Netra Sparc T4-1 supports four 2.5-inch drives that are mounted off to the right in the chassis, which leaves most of the front open for cooling fans. (The commercial Sparc T4-1 supports more disks and has fewer fans.) It also has five PCI-Express 2.0 x8 slots for peripheral expansion.
What makes it carrier-grade, besides the extra cooling, is the ability to use DC as well as AC power supplies, in this case a maximum of two 1,200 watters if you want redundancy. The DC power supply can take 48 volt or 60 volt power, while the AC unit can scale from 100 volts to 240 volts. The DC supplies cost a couple grand extra.
The Netra machine has also been through the NEBS Level 3 environmental tests required by telcos to prove that it is rugged enough to run reliably in harsh environments.
The Netra Sparc T4-1 runs either Solaris 10 or Solaris 11. A small configuration with a four-core T4 chip, 16GB of memory, and one 300GB of disk costs $15,386 with DC power. A mid-sized configuration with one eight-core T4 chip, 128GB of memory, two 300GB disks, and DC power costs $34,014. The full up machine with four disks and 256GB of memory costs $48,512.
The Netra Sparc T4-2 puts the two-socket Oracle T series motherboard used in the regular Sparc T4-2 server in a 4U chassis that can support up to four of those 1,200 watt AC or DC power supplies. The machine uses the 2.85GHz Sparc T4 chips, and this time only the eight-core variant. The machine can only be purchased with two processors, by the way.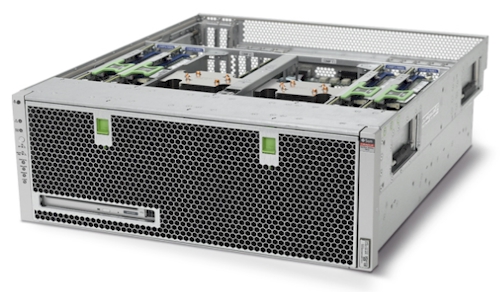 The Netra Sparc T4-2 telco server
The machine has 32 memory slots, for a maximum of 512GB of memory, plus four Gigabit Ethernet ports on the mobo, four of those funky 10GE ports that hang off the T4 chips (two per socket), room for eight 2.5-inch SAS drives, and four PCI-Express x8 slots. It runs Solaris 10 and 11, just like its baby Netra brother.
The small configuration for the Netra Sparc T4-2 has those two T4 chips, 64GB of memory, one 300GB disk, and DC power supplies for $44,945. If your workload might be CPU heavy and memory light, and you have the space for the fatter chassis, the base Netra T4-2 is a better deal than the fat Netra T4-1. The midrange Netra T4-2 has 128GB of memory and four disks for $53,572, while the fully loaded box with 512GB of memory and eight disks will run a cool $93,448 with DC power.
That leaves the blade servers, that are DC powered by nature as they plug into the Sun Blade 6000 chassis, which has to get DC power and NEBS certification to become carrier-grade.
The Netra Sparc T4-1B blade server has a single eight-core T4 processor running at 2.85GHz and has the same 16 memory slots supporting up to 256GB of memory as the Netra T4-1 rack machine.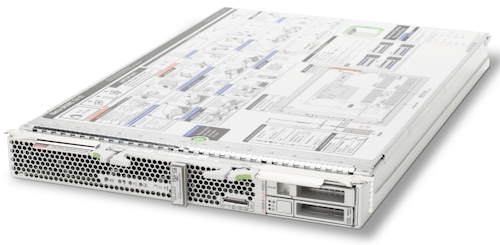 The Netra T4-1 blade is a racker tipped on its side with a funky backplane
The Sun Blades don't have their own peripheral slots, but rather plug into the chassis, where PCI and most network interfaces are virtualized in hardware and externalized to reach the outside world. The Sun blades have two Gigabit Ethernet ports on the board for networking, as well as a 100Mbit Fast Ethernet port for system management, but otherwise everything goes through the midplane. The blade does have room for two disks.
With 16GB of memory and one disk, a Netra T4-1B blade server will run you $15,981. Boost the memory to 128GB and add the second disk, and you are up to $26,470. Max it out at 256GB and you're talking $39,950. You have to buy the chassis yet, of course.
For all of these machines, if you need more storage, Oracle suggests the Storage 2500-M2 arrays, which are NEBS Level 3 certified.
Relational database times ten
In addition to the new Netra boxes, Oracle also updated its TimesTen in-memory relational database and slapped the 11g R2 version on it to give it the same brand and release level as its eponymous database that runs on disk and now flash/disk hybrids.
The details were a little thin on what has been updated with TimesTen 11g R2, but Oracle said that the update includes performance and scalability enhancements. Significantly, this iteration of the TimesTen in-memory database is at the heart of Oracle's Exalytics analytics appliance, which was announced at OpenWorld last October. So now, if you want to build your own Exalytics on different iron than Oracle's servers, you can. ®