This article is more than 1 year old
Philips Cinema 21:9 Gold 50in ultra widescreen TV
The film buffs' telly gets cheaper... and smaller
Sonic boon
Philips uses the Gold's 3D functions in another way, too. It's great for playing two-player games. A separate pair of special 3D glasses are available which effectively have two left and two right lenses respectively. One gamer sees one picture, the other sees another. It lacks the polish of the newly announced Super OLED screen from Samsung and it's ultimately not much more fun than regular split screen gaming, but it's a cute gimmick.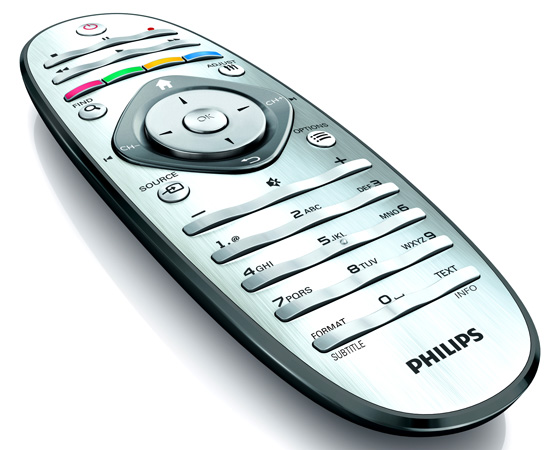 The tactile remote has some navigation quirks that need familiarising with
The 21:9 Gold has good sound – not something you can say about all flatscreen TVs. I don't know if it's the size or the weight of the TV but the volume is strong, the bass rich enough and the clarity of voices noticeably better than on many TVs.
I've criticised Philips in the past for clunky, ugly remote controls. This one matches the oval shape and brushed metal styling of more recent models. It's not perfect but it's very good – though the buttons are a little clicky. It's strikingly different from most remotes which means there's a learning curve, but it's a likeable and workmanlike gadget.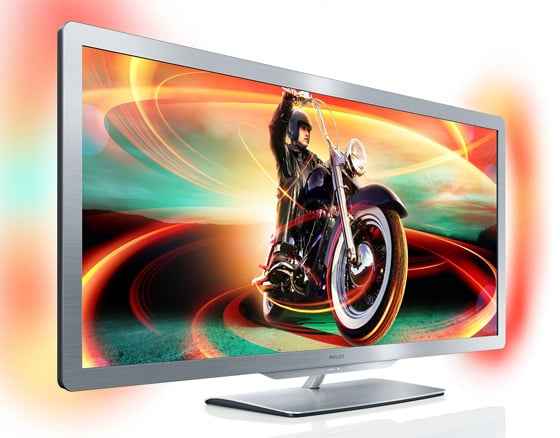 Perhaps not best for everyday viewing, but ideal for the film fanatic
Verdict
Only film lovers need apply here. The screen's format just doesn't work if you mostly want to watch sitcoms originally transmitted in 4:3 ratio or even regular widescreen TV broadcasts. But if the majority of your viewing, or at least what you value watching most, is movies then this is a spectacular TV. The shape is striking and effective, the Ambilight enchanting and the image quality exceptional. Sound is stronger than on many flatscreens, too. ®
More TV Reviews

Toshiba
Regza
32UL863
Samsung
PS64D8000
Ten monster TVs
LG
42 LW650T
Sony
Bravia
KDL-55HX923

Philips Cinema 21:9 Gold 50in ultra widescreen TV
Wide aspect ratio TV with passive 3D viewing and ambilight niceties.