This article is more than 1 year old
Xerox CEO's cure for US educational woes: 'Cool' and cash
Put down that basketball and pick up those books
CES 2012 The Chairman and CEO of Xerox believes that one way to fix the US educational system is to make science, technology, engineering, and math "cool". Another is money.
"We have to celebrate the things that we desire," Ursula Burns told her audience at a keynote panel Wednesday morning at the Consumer Electronics Show (CES) in Las Vegas.
The things that we desire – what the US should desire and what the country needs – are great teachers and "excited learners," says Burns. They should honored – celebrated.
"We want people to be engineers, scientists, technologists – that's what we want," she said. "We can't complain if we don't have them if we don't invest there, you know?"
When asked what educational levels need fundamental improvements, Burns was succinct. "All levels," she said. "If I could skip one, I would skip one. We must fundamentally improve our educational system."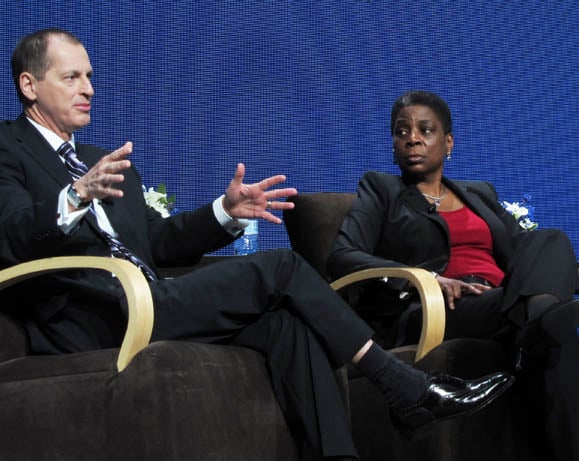 Ursula Burns (onstage with CEA prez Gary Shapiro) may find it hard to explain 'cool' to the average CES attendee
Scientists and engineers are critical to the ongoing development of the world's infrastructure, Burns believes. "Everything that we're talking about," she said, referring to earlier discussions about technological advances, "if we could have just stopped two years ago, we would've." But we didn't stop – there are still problems to be solved.
And engineers and scientists are problem-solvers. "If we didn't need to have more fuel-efficient, more-sustainable cars, we would have stopped doing it," she said. "Everything – potable water, energy distribution and energy generation, healthcare – everything that we're talking about – there's not one thing that doesn't depend on scientists and engineers. There's not. There's not one.
"And we are not producing enough of them," she continued. "And the ones that we are producing, if they're not US citizens, we're sending them home when they're done. The whole system is kind of mucked up here."
The fix is straightforward, Burns believes. "It's pretty basic to get back to basics." And if we don't, "Expect that we will not be great if we don't fix this fundamental problem."
When panel moderator and CEA president and CEO Gary Shapiro noted that technological innovators are less revered than sports heros, Burns interrupted him. "That's one of the things that we have to do – it has to be cool. We have to celebrate what we want," she said. "And it is cool."
But if making science, technology, engineering, and math "cool" might be a bridge too far, Burns offered another solution: enlightening students to consider their long-term self-interest.
To illustrate the challenges in this approach, she recounted her experiences in talking with high school students.
I spend a lot of time in schools, a lot of time in schools. And it's an interesting conversations when I say, 'Well, what do you want to be?' And nine out of ten times they want to be something grandiose at 20. So they want to be a great basketball player, or a musician, or whatever.

Aspirations in those areas are fairly reasonable, I just don't think they're mathematically sound. So I want to kill that, and get more of those guys out of there.

But then I start to talk about 'Do you know what you could do with four years of education past your high school, or six years of education past your high school? You could actually have a job that will pay you seventy, eighty thousand dollars a year, that's very interesting, that allows you to see the world.

'You can do this, for sure. You don't have to be perfect at shooting a ball. All you have to do is study for six more years – or four more years, if you want to end it.'

It is amazing how few people think about the problem this way. This is not asking to create new human beings – we just want to train them to do this versus that. And they don't see that. They really don't see that. It's still not cool for them.
According to Burns, it's important for companies to reach out to student about future jobs, security, and satisfaction – and coolness. "We can show them that you can walk into a place and you can have really great work, and do it every single day," she said.
Problems with the educational system can't be remedied merely by inspiring students with coolness today and the prospect of a secure future tomorrow, though. Government support is needed, as well. When Shapiro extolled the US university system as being "world class", Burns jumped in. "We are, but this is another place to be careful. We're losing ground here as well," she said.
Burns cited the University of California, the New York University system, and the Texas system as being "ravaged by budget issues."
If we let these systems flounder, underfunded, Burns predicts that "Five years from now, some parents will say, 'What happened to UC Berkeley? What happened to the State University of New York?'." Her answer to those parents' questions: "They just don't have enough money to keep themselves going."
Private universities are doing okay, she said, although "costs are getting to the point where it almost insane." Current – and rising – private tuition levels are driving middle-class American students out, and their slots are being filled by well-heeled or government-supported students from other countries.
As Burns said at the beginning, what levels of the US educational system are under stress? "All levels." ®