Big Blue boffins cram information onto a cool 12 atoms
Vorsprung durch kleine-informationenspeichernstelle
---
Boffins at IBM Research's Almaden centre have stored one bit in 12 atoms - creating a memory that's 150 times denser than NAND flash.
They used the anti-ferromagnetism phenomenon to order the 12 atoms in a stable group that retained its properties for several hours, and wasn't influenced by neighbouring groups. A byte needs 96 atoms and IBM stored the word "Think" in five blocks of 96 atoms.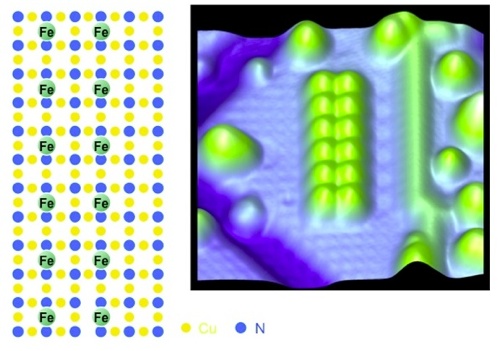 IBM image of a 12-atom memory block
The atoms were manipulated by scanning tunnel microscopy and the work was carried out at an undefined "low" temperature. The anti-ferromagnetism effect occurs below a temperature called the Néel temperature and this varies with the material used. Above that temperature the effect disappears. The Néel temperature is defined in Kelvin and water freezes at 273.15K.
With anti-ferromagnetism the magnetic moment of an atom points in the opposite direction to a neighbouring atom and a group of atoms exhibiting this behaviour have an ordered pattern. The magnetic moment is usually affected by the spin of the electrons in the atom and if you can alter the spin then you change the magnetic moment.
IBM's scientists used this effect to build anti-ferromagnetic memory.
There is an IBM video, accessible here, explaining more about the boffinry involved.
IBM say the technology packs information 100 times denser than hard disk drives, meaning, we think, the media surface packing density and not the hard disk drive enclosure. This is hugely impressive and super gee-whiz work, but it don't think for a second this is going to appear in product technology in the next twenty years or so. It's fascinating but, really, in a product sense, immaterial for many, many years. ®
Similar topics
Narrower topics