Elusive pollution-busting molecules are scrubbing our planet's atmosphere at a much faster rate than first imagined, according to gas-bothering boffins.
Reactions by the cleaning agents, known as Criegee intermediates, are also emitting a by-product that forms solar radiation-reflecting clouds that could help cool Earth and reduce the effects of global warming.
The Criegee biradicals were first hypothesised in the 1950s by German chemist Rudolf Criegee, but only now have they been recreated in a lab and directly measured for the first time. Specifically, the scientists took formaldehyde oxide – a species of Creigee intermediate – and observed it reacting with sulphur dioxide and nitrogen dioxide.
These dioxides are said to initiate climate change in our atmosphere, yet it's now understood they are removed from the troposphere by helpful Criegee biradicals – described as pivotal atmospheric reactants. The reaction also spews sulphate and nitrate into the atmosphere, creating aerosol droplets that seed planet-cooling clouds.
The rate of compound conversion is much higher than the boffins expected, leading them to conclude that the biradicals may have a greater impact on our climate than previously thought. The production of Earth's short-lived Criegee biradical stocks are fuelled by the combination of ozone and chemicals released naturally by plants.
The intermediates, otherwise known as carbonyl oxide biradicals, were spotted by researchers from Sandia's Combustion Research Facility, the University of Manchester and Bristol University. The eggheads used a particle accelerator at the Lawrence Berkeley National Laboratory in the US to observe the process using photoionisation mass spectrometry - there's a video describing their work here.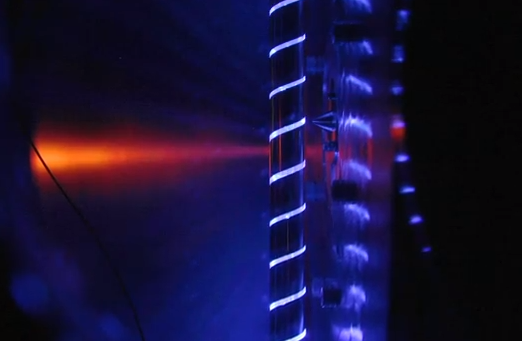 Criegee intermediates react in lab conditions
"We have been able to quantify how fast Criegee radicals react for the first time. Our results will have a significant impact on our understanding of the oxidising capacity of the atmosphere and have wide ranging implications for pollution and climate change," said project chief Dr Carl Percival of the University of Manchester.
The University of Bristol's Professor Dudley Shallcross, who co-wrote the paper, added: "Natural ecosystems could be playing a significant role in off-setting global warming."
The scientists' paper, Direct Kinetic Measurements of Criegee Intermediate (CH2OO) Formed by Reaction of CH2I with O2, was published in the latest issue of Science. ®