First ever private rocket to space station in launch delay
'We'll go when we're good and ready', say Musk rocketeers
---
SpaceX, the private rocket firm helmed and in large part bankrolled by famous nerdwealth biz kingpin Elon Musk, has announced that its first attempt to send one of its Dragon capsules to the International Space Station will be further delayed.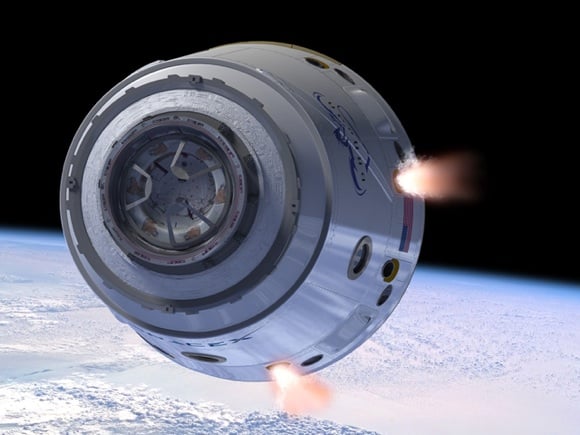 Breathes fire - but it needs to show it can fly, again
It had been tentatively planned to launch a Dragon atop one of the company's new Falcon 9 rocket stacks to the ISS on February 7 after plans for a launch last year were rolled back. The Dragon is expected to dock with the station on its first visit, leapfrogging ahead of previous schedules calling for an initial trial rendezvous without docking.
The new launch date is unknown, with SpaceX reps informing reporters that "we are now working with NASA to establish a new target launch date, but note that we will continue to test and review data. We will launch when the vehicle is ready".
Dragon has flown once so far, making a successful journey into orbit and back atop a Falcon 9 carrying a large cheese at the end of 2010 - the first time a private company had ever achieved such a feat (the orbital flight and return, that is, not the cheese).
Though Dragon is currently intended for unmanned supply flights to the ISS, SpaceX contends that the vehicle and the Falcon 9 are safe and reliable enough to carry people as soon as NASA will allow this, which would restore US manned spaceflight capability - currently unavailable following the retirement of the space shuttle fleet.
Musk himself makes no secret of the fact that he has grander ambitions than simply delivering astronauts and cargo to the ISS in low Earth orbit, or selling space on his Falcon rockets to commercial (and government) satellite operators. He has frequently alluded to Mars as the ultimate goal, and SpaceX has more than once suggested that Dragon capsules fitted with the company's "Draco" retro-rockets could land not just on Earth but on other planets too (though such missions would undoubtedly call for new hardware not yet seen from SpaceX such as service modules etc, and most probably more powerful launchers than anything yet officially announced).
A recent update from SpaceX, indeed, speaks explicitly of Dragon having "the power it needs for longer trips, whether to the Space Station or future missions to Mars".
In order to realise such lofty goals, however, Musk and SpaceX must first show that the Dragon is not a one-shot wonder by achieving a solid record of unmanned missions to the ISS. The next hurdle will be manned operations, and then, perhaps, the real battle will begin - the fight to supplant NASA plans for future manned flight beyond low orbit, which currently aim to use legacy launch tech from SpaceX's great rivals in the established US rocket monopoly.
That battle will have to be funded largely by commercial revenues. Musk says SpaceX is profitable already, and has recently indicated that he'd be happy to open up his books by making preparations for an IPO, but as yet no offering has materialised. As with the Dragon launch, it's a case of watch and wait for now.
Musk's road to Mars looks set to be a long one, even by the standards of interplanetary journeys. ®