Antique Code Show For my money, one of the greatest games ever made for the Amstrad CPC was Fantasy World Dizzy. At age seven, I was positively ravenous for my fix of Dizzy's latest adventures, and my brimming fervour to play it was good training wheels for the likes of Sonic 2 and Street Fighter II: Special Champion Edition.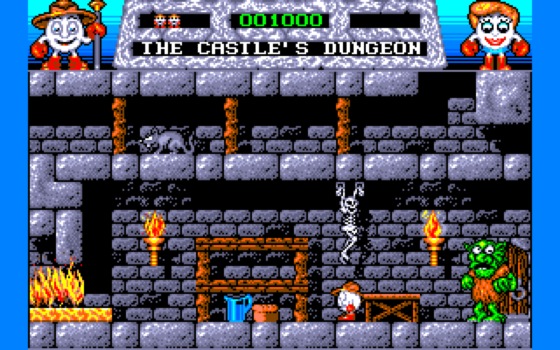 You gotta Troll with it
After the gothic, Tim Burton-esque Dizzy, and the tropical Treasure Island, this chapter saw the emergence of a more fairytale aesthetic featuring dragons, a castle built on clouds, and magical beanstalks - a vibe that would stick with the series indefinitely.
Even the very first room was ingenious in setting such a scene. Armed with naught but a shiny apple, you're dumped in a dungeon with no discernible means of escape, save for some mouldy bread and a jug of water...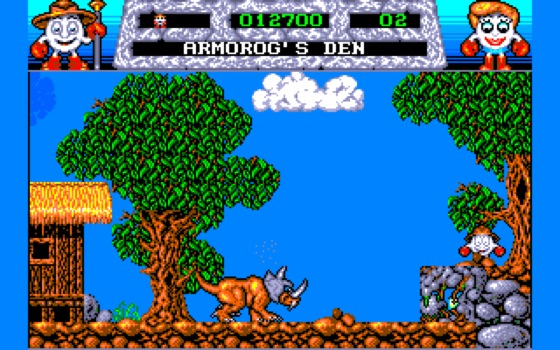 Horny beast
The plot was a slightly more derivative affair than the previous two games, kind of a mashup of already-established fantasy tales, with added egg. Dizzy's love interest, Daisy - see what they did there? - has been kidnapped by the King Troll, and it's up to you to go rescue her. We never actually see this King Troll, so the omnipresent threat of a baddie such as Zaks is lacking.
The scope of the game had broadened considerably by this point, as we were finally introduced to the hitherto-unseen Yolkfolk. What was brilliantly contrived about them was their casual inability to come along for the ride, as the 8-bit systems of the time presumably couldn't handle a Tails-like figure poodling along in your tread.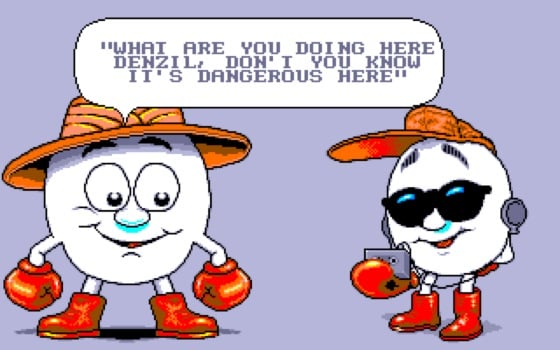 Meet the Yolfolk
Dozy is a narcoleptic who can't be roused despite being punted into the sea, never to be seen again. Hippy Dylan - natch - is presumably too intoxicated to get up. Fonz-like Denzil is too busy adjusting his shades and returning your rope (?). And Granddizzy - strewth, they were really burning the midnight oil thinking up these names weren't they? - who almost springs to Dizzy's aid before being told to take it easy in his old age, is about as much use as a cat flap in an elephant house.
Learning their lessons from the previous two games, the coders ensured Fantasy World was thankfully bereft of most game-shattering bugs. However, there was one which actually made the game phenomenally easy to complete. It basically involved growing a beanstalk from a patch of cowpat, leading directly to your imprisoned squeeze.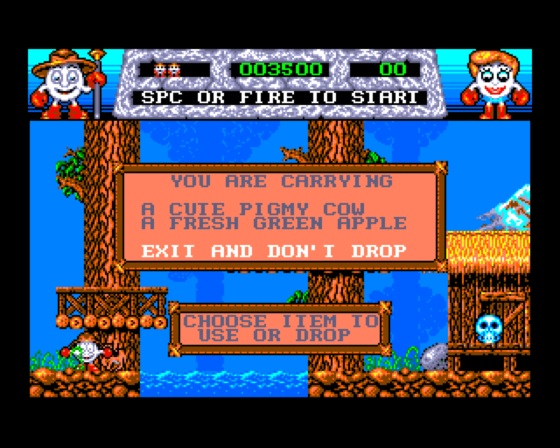 Yeah, but where did he keep all that?
Thing is, you don't actually need to plant the bean. By merely chucking a bucket of water, an item you can acquire early on in the game, over it, the beanstalk would grow anyway. I only discovered this by accident after childishly wondering if I could make the manure even sloppier by getting it wet. Oh, the filthy imaginations we had in those halcyon days.