Clothes that track your every move could fill Apple fanbois' wardrobes after the fruity tech titan patented new wearable technology. The designs, approved yesterday, describe "smart garments" with embedded sensors and a two-way communications link to an external database.
Based on the existing Nike+ iPod trainers, the new patent extends the idea beyond running shoes. Ski-boots, shirts and trousers were cited as potential pickings for sensor. The patent also includes descriptions of potential new functions which go far beyond what is currently available on the Nike+ range.
The patented sensors would track "garment usage" and "detect wear patterns":
A sensor authenticated to a garment transfers information, either wirelessly or wired, to an external data processing device. Such information includes location information, physiometric data of the individual wearing the garment, garment performance and wear data
Specifically, the hypothetical Apple running shoes could change your iTunes playlist according to how you move, tell the manufacturer of the shoes how often and long you use them, suggest public toilets to you and tell you when you need to buy new shoes.
Taking into account your physiology, the shoes would allow you to race against the average speeds for people of your weight and height or encourage you to enter virtual running competitions against folks on the web.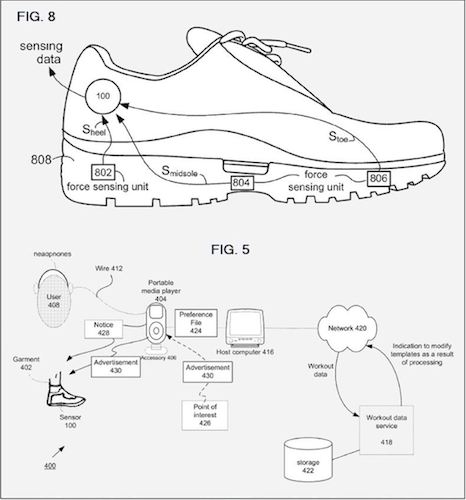 While some aspects of the patent are useful - for example recording your running style and measuring the forces that you put on areas of your feet - Apple has cunningly imagined ways to make money from your exercise: the patent describes giving gathered data about usage patterns back to manufacturers and pushing location-specific advertising to punters.
In Cupertino style, users would be prevented from putting their sensors on unauthorised clothing. The patent application complained that people were in the habit of removing spy circuits from authorised trainers and putting them in unofficial items. Apple doesn't like that.
Awarded to Apple on 17 January 2012, patent 8,099,258 was filed in 2010 by Brett G Alten and Robert Edward Borchers. ®