They're the most abundant form of life on Earth – they have astonishing properties – and we know bugger-all about them.
Bacteriophages were only discovered in 1912, and the Red Army and the Wehrmacht both carried phage water as a bacterial treatment. Then antibiotics came along and science ignored bacteriophages for a very long time. Apart from research at one institute in Georgia, very little science was done for 60 years. Now, phages are being re-appraised in the fight against infection: bacteria are a phage's natural enemy, and with antibiotics becoming increasingly ineffective, we need the little critters more than ever.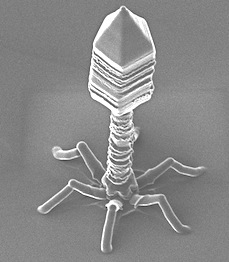 A bacteriophage
Israeli scientists at the Sackler Faculty of Medicine in Tel Aviv have established in principle the technique of ensuring bacteria do not retain their resistance to antibiotics.
"Unlike conventional bacteriophage therapy, the system does not rely on the phage's ability to kill pathogens in the infected host, but instead, to deliver genetic constructs into the bacteria, and thus render them sensitive to antibiotics prior to host infection," they note in the abstract to their paper, Reversing Bacterial Resistance to Antibiotics by Phage-Mediated Delivery of Dominant Sensitive Genes, here.
"Genetically altered phages can be developed for any bacterium and used in hospital settings to reverse antibiotic resistance in bacteria that cause hospital-acquired infections," the Wall Street Journal notes.
If successful it calls a halt to the arms race between antibiotic-resistant bugs, and superbugs (such as MRSA), and the pharmaceutical industry's ever more powerful bunker-busting antibiotics. The NHS has trialled phages as protection against MRSA (Methicillin resistant Staphylococcus aureus, a variant of Staphylococcus) noting their success. Phage treatment was used to guard wounds. Startups such as Fixed Phage, a spin-out from Scotland's Strathclyde University, describes it as "not the end of the battle, but it is an endless supply of ammunition to fight the war".
Which is very timely. Last week, supermarket science tabloid Nature [surely some mistake? Ed] splashed with news of "a totally resistant TB strain", prompting alarmist headlines around the world. And a "calm down dearies" from the World Health Organisation.
We expect the phage story to get rather less media attention. Pity. ®