This article is more than 1 year old
Netgear ReadyNas Duo v2 network storage
ARM twist tactics
Review Netgear's ReadyNas Duo v2 appears to be identical to its predecessor from the outside, yet it actually represents a rather radical shift in hardware design for the company. This dual bay ReadyNas model does away with the Infrant Technologies IT3107 SPARC processor featured on earlier models and replaces it with a 1.6GHz ARM CPU in the form of a Marvell 88F6282.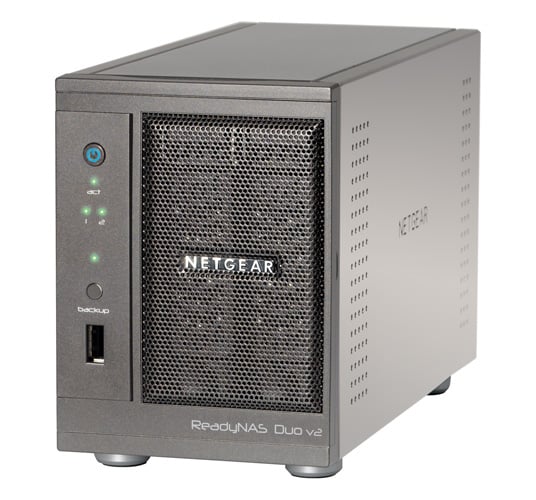 ARM workout: Netgear's ReadyNas Duo v2
While ARM chips on Nas boxes are nothing new – Qnap has used them for some time – their use on the ReadyNas range is a recent switch. Netgear reckons that using this system-on-a-chip platform should be capable of achieving 96MB/s reads and 60MB/s writes over its gigabit Ethernet connection.

RAIDar detects ReadyNas gear, gives a status overview and offers setup options
Click for a larger image
In addition to the ARM CPU, the updated ReadyNas also sports something I've been waiting far too long to see on a Nas box; USB 3.0. Finally, it is possible to perform a full external backup of your Nas within the lifetime of the average 'prosumer'. Aside from these new features, the hardware remains essentially the same; two hotswappable SATA 3Gb/s bays, front USB 2.0 port, 10/100/1000 Ethernet, 265MB RAM and 64MB of firmware flash.
Netgear will flog you a ReadyNas Duo v2 with either a single one or two terabyte drive inside or none at all if you prefer. Regardless of capacity, a single drive will still leave you with one empty bay for future expansion. This all falls hand in hand with Netgear's implementation of Flex-RAID and X-RAID2.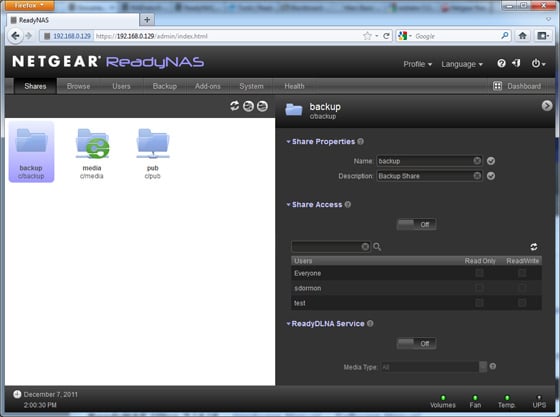 Shares
Flex-RAID is effectively your usual RAID0/1/JBOD system with added autoexpansion capability. Having only two drive bays Flex-RAID on the Duo is rather limited, as it can only be used to expand on RAID0 and JBOD arrays, given that RAID1 would already be using both bays. X-RAID2, on the other hand, dynamically adds storage capacity or data protection depending on the number and size of the disks you add.