This article is more than 1 year old
Errands To-Do List
Task tracking for the terminally disorganised
iOS App of the Week For some reason, I just don't get on with the new Reminders app that Apple introduced with iOS 5, so I recently went looking for a decent task manager to take its place.
There are hundreds of these on the App Store, of course, but the one that seems to best suit my semi-organised approach to life is Errands To-Do List.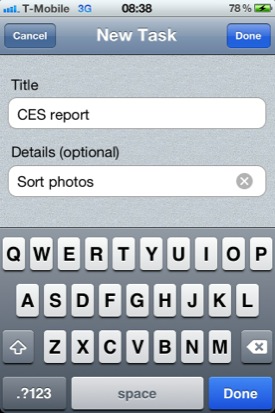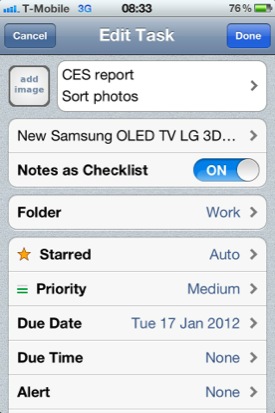 Create a task (left) and then add the details (right) - if you want
The thing I like about Errands is that it allows you to be as organised or disorganised as you want. Order is not imposed upon you.
When you create a task you can give it a simple title, such as 'write CES report' and leave it at that. However, you can also add a one-line sub-heading – 'all those Ultrabooks' – or hit the Notes button to append a more detailed list of all the wonderful products at CES, or perhaps just a shopping list of stuff you need for dinner tonight.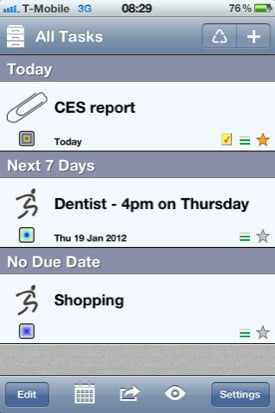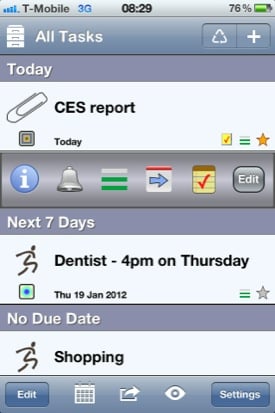 List your tasks (left) and tap for a bar of editing options (right)
You can set the priority of each task, add an alarm, or set a date to complete the task. There's also an option to organise tasks into folders for categories such as 'work' or 'home'.
You can do all those things if you want to – but you don't have to. If you're like me then you can skip all that and just jot stuff down as it pops into your head.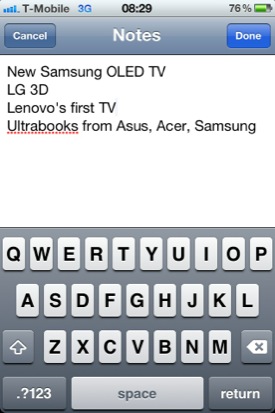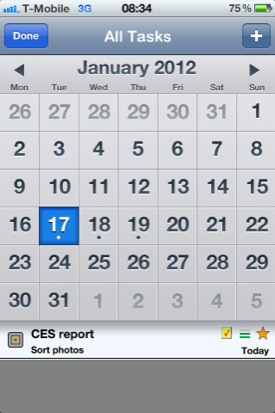 Show your tasks on a calendar
However, the neat thing about Errands is that it also allows me to go back and tidy up my random brain-dump whenever I want to.
Just tap on a task and you activate a little toolbar that allows you to alter details such as the alert time or completion date, or to jump into the notes section and add a few extras to your shopping list. You can add as much or as little detail as you need to, and be as freeform or as anally-retentive as you prefer.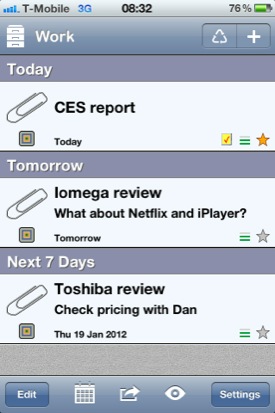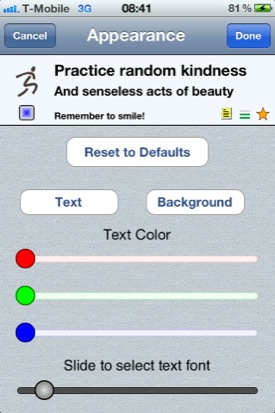 Customise the view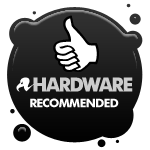 The developer, David Mandell, also takes an old-school shareware approach with the app. You can download the full version of Errands for free, but there's an 'upgrade' option within the app that lets you make a donation if you like it and feel that it's worth paying for. ®
We make our selection of the best iPhone, iPod and iPad downloads every Thursday. It you think there's an app we should be considering, please let us know.
More iOS App of the Week Winners

Samsung Remote
Sleep Cycle
Dermandar
Panorama
KitchenPad
Hailo

Errands To-Do List
A versatile To-Do app that can adapt itself to your own way of doing things.
Price:
Free. Optional donation of £1.99 RRP