This article is more than 1 year old
Apple launches three-pronged education assault
The end of textbooks as we know them?
As expected, Apple has announced a major foray into the education arena with the release of three new – and free – apps, one for reading interactive textbooks, another for creating said textbooks, and a third for accessing K-12, college, and university course materials in iTunes U.
More than the apps themselves, what Apple has tacitly announced is that it wants to put an iPad into the hands of every student on the planet, and – although the company didn't specifically announce this detail in its Thursday presentation in New York – to take its customary 30–per cent cut from textbooks sold in its iTunes Store.
That said, any effort to lighten the backpacks of students overloaded with hefty textbooks, along with making it easier for textbooks to be updated as scientific progess and historical events warrant, should be given a fair shake.
The new textbook-creation app, iBooks Author, runs on Mac OS X 10.7.2 (or later), and bears a strong resemblance to Apple Pages document-creation app, part of Cupertino's iWork productivity suite.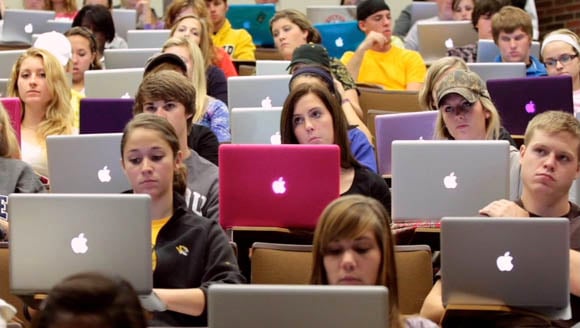 In Apple's brave new educational world, these students may soon swap their MacBooks for iPads
Like Pages, iBooks Author is template-based – although you're not forced to use those Apple-designed niceties – and allows drag-and-drop insertion of images, Pages or Microsoft Word files, Keynote animations, various media types, and the like. HTML5 content is also supported, as are such accessibility features as Apple's text-to-speech VoiceOver tech.
Textbooks created using iBooks Author can be published to Apple's iBookstore, where updates can be distributed as needed.
To allow students to read these iBooks Author–created textbooks on an iOS device, Apple offers a new iBooks 2 app for the iPad, iPhone, and iPod touch – although, as might be guessed, some interactive content will only work on the larger-screen iPad.
In addition to merely reading textbooks, iBooks 2 also allows student to search texts, take notes and turn them into question-and-answer digital flash cards, organize books and PDFs into Collections, change fonts and font sizes, sync bookmarks and notes among iOS devices, read ePub-formatted texts, and other tricks.
Along with textbooks built using iBooks Author, Apple says that iOS textbooks will be available from educational publishers Houghton Mifflin Harcourt, McGraw-Hill, and Pearson, with "most" of their offerings priced at $14.99 or less. All of these titles will be made available in a new Textbooks section of the iBookstore.
Budget-bashed colleges have a new online competitor to their campus-bookstore cash cows (click to enlarge)
The third offering in Apple's new educational triumvirate is the iTunes U app for the iPad, iPhone, and iPod touch, which provides direct access to Cupertino's extensive iTunes U collection of course materials – "the campus that never sleeps", as Apple's marketing folks call it.
According to Apple, iTunes U has topped 700 million downloads of educational materials provided by such august institutions as Cambridge, Duke, Harvard, Oxford, and Stanford – and now that its offerings are newly expanded to K-12 schools, we can only expect that number to top one billion posthaste. ®
Bootnote
"iBook" isn't the first product name that Apple has repurposed (it was the name of Cupertino's low-end laptop from July 1999 to May 2006). Long-time Mac afficiandos will also remember the term "SuperDrive", which was first used as the moniker of the company's multi-format 3.5-inch floppy drive from 1988 through 1999, then repurposed as the name of its CD/DVD reader/writer since February 2001.