This article is more than 1 year old
Kiwis collar Megaupload kingpin, Anonymous exacts revenge
Retaliation downs US DoJ, RIAA, MPAA
America's war on file-dump site Megaupload has escalated dramatically, with founder Kim Dotcom and three others in Auckland among seven people arrested in connection with the site.
The four arrested in New Zealand include Megaupload's chief marketing officer Finn Batato, cofounder and CTO Mathias Ortmann, and BOFH Bram van der Kolk. New Zealand reports state that three others, graphic designer Julius Bancko, business development manager Sven Echternach and software development head Andrus Nomm, are "still at large".
According to Stuff.co.nz, Dotcom and van der Kolk are New Zealand residents.
The international operation claims to have netted $US20 million in assets across eight countries. Update: CNN puts the seizure of assets as being worth $US50 million, including servers in Virginia and Washington DC.
The FBI is working with a full charge sheet, accusing Dotcom and his associates of criminal copyright infringement, money laundering, and racketeering. It claims that Megaupload's operations, which generated $US175 million in income through subscriptions and advertising, caused damage to copyright owners of $US500 million.
In an instant and furious reaction, Anonymous is claiming credit for taking down the websites of the US Department of Justice, the MPAA, and the RIAA as punishment for the arrest.
In spite of a past that includes accusations of investment fraud and convictions for computer fraud and handling stolen goods, Dotcom (who changed his name from Kim Schmitz) amassed a fortune that allowed him to rent a vast multi-million-dollar mansion near Auckland in New Zealand.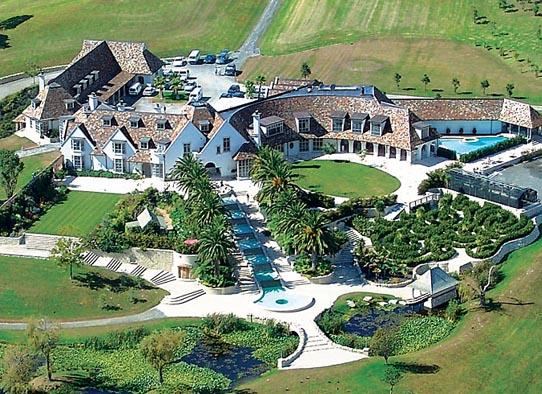 Dotcom's rented mansion. Source: http://www.nbr.co.nz
As Kim Schmitz, Dotcom's prior art includes a claim that he had discovered how to make money from the stock market relying on nothing but technobabble and investor gullibility.
A decade back he was also claiming to have penetrated Osama bin Laden's bank accounts. The Anon-anointed hacker hero's convictions include stock price manipulation and insider trading – these disqualified him from buying the mansion he was leasing.
Dotcom nee Schmitz was unhappy about the New Zealand government's decision via then associate finance minister Simon Power that he failed the 'good character' test for the purchase of the property, with that country's 3 News quoting him thus: "Officially I am as clean as it gets. I am not a bad person with a bad character and, in my opinion, Simon Power is small minded and unreasonable. In New Zealand, murderers have been released from prison within a decade. You would think that the New Zealand Government believes in giving people a second chance."
Trying to project a "cleanskin" look for Megaupload, the outfit last year sparked a row with Universal Music Group by crafting a YouTube video with supporters who included UMG-signed artists. The video was removed from YouTube briefly, but later reinstated.
Rolling Stone has revealed that hip-hop artist Swizz Beatz is a silent partner and CEO of Megaupload, although he is not included in the current indictment. Beatz also helped cast the "Megaupload Song" and is counter-suing UMG to defend his actions. ®
Update: The New Zealand Herald reports that items seized in its raid include cars worth a total of $NZ6 million, $NZ10 million in cash, artworks and weapons. New Zealand's Detective Inspector Grant Wormald has said the investigation begun in August last year. He is also reported to have said that there's no intention of charging those arrested over breaches of New Zealand laws, putting the spotlight on extradition proceedings. FBI personnel have been in New Zealand assisting NZ police in the investigation.
Thanks to the Reg reader who reminded me that there's also a handy Kim Dotcom primer at attrition.org. ®