Nuke support in UK hits record high
Keeping calm and carrying on
Public support for nuclear energy has reached an all-time high in the UK, less than a year after the Fukushima incident. There is an interesting gender gap, though.
Pollsters Ipsos MORI, who buttonholed about 1,000 Brits last month for its survey, found that 40 per cent of the sample [PDF] now hold favourable views of nuclear power, compared to 19 per cent who don't. Men (55 per cent) are much more likely than women (26 per cent) to view it positively. Nuclear energy has been viewed more positively than negatively since 2004.
The recovery comes about 10 months after the most publicised civilian nuclear emergency in 25 years: the incident at the Fukushima-Daiichi power plant, caused by a tsunami wiping out Japan's shores. Support for nuclear energy dipped but rapidly recovered.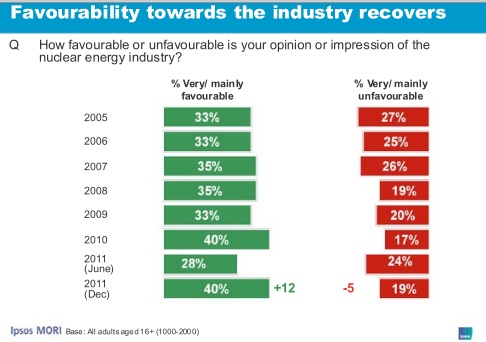 We may infer that people looked at the Japanese crisis and thought it was not applicable to the UK, or that it was applicable, but posed much less of a risk than the hysterical media portrayed.
There must be a point at which the narrative of impending catastrophe becomes exhausting to the public. Perhaps after Fukushima, we've passed that point.
What do you think? ®