Iomega TV with Boxee
If, at first, you don't succeed...
---
Review I've reviewed various models in Iomega's ScreenPlay range in the past and, to be honest, haven't been wildly impressed by any of them. Weaknesses such as the inability to list album tracks in the correct order suggested that Iomega's designers hadn't exactly thought things through properly.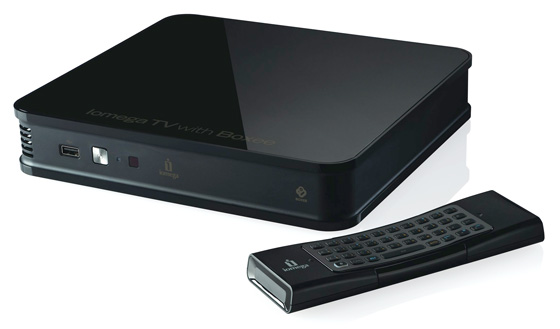 Getting there: Iomega's TV with Boxee
I wouldn't say that they've completely nailed it with the new Iomega TV, but at least it plays songs in the right order. As that cumbersome name implies, the Iomega TV can be used as both a NAS drive and a network media player. It's available with either 1TB or 2TB of internal storage, with both options seeming rather pricey at £350 and £389. You can also buy it without a hard disk for £220, which isn't exactly a bargain either – Western Digital's WD TV Live is £100 cheaper.

Bare essentials in the way of ports – alas, no SD card slot
The glossy black box was larger than I'd expected, but is very slim and comes with a stand so that you can place it upright beside your TV without taking up too much space. Round the back you'll find HDMI and composite video ports, analogue stereo and SP/DIF, and a Gigabit Ethernet port for connecting to your home network. There's a USB port on the back, and another on the front, and Iomega also throws in a USB adaptor for 802.11n wireless networking too.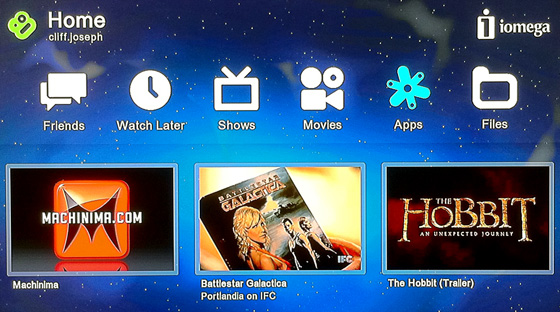 Home screen
When you turn the Iomega TV on you see the device's Home screen, which provides four main options – Shows, Movies, Apps and Files. Those first three come from the Boxee service, which basically just rounds up a bunch of films, TV programmes and other content from around the web and then drops you into a web browser in order to view them.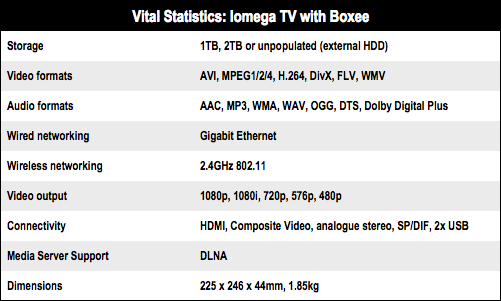 Similar topics
Narrower topics