Mellanox chops 10-gig Ethernet switch, adapter prices
Making it up in volume
---
Updated Mellanox Technologies is not happy about the 10 Gigabit Ethernet switch and adapter ramp, and it is doing something about it: slashing its own prices.
In the wake of its acquisition of InfiniBand switch-maker Voltaire, Mellanox last year launched its SwitchX converged Ethernet and InfiniBand ASICs for 10GbE and 40GbE switches and their companion ConnectX-3 converged adapter cards for servers and merchant silicon, allowing motherboard makers to embed ConnectX-3 ports on said mobos.
The SX1035 switch using the SwitchX chip was launched in May sporting 36 40GbE ports, with an SX1036 with more sophisticated Layer 2 stack, and the SX1016 64-port 10GbE switch was announced in late August.
These three switches started shipping in volume last fall. But before that, customers taking beta versions of the SX1035 "Lite L2" variant of the switches were able to get a special discounted bundle of one SX1035 switch, four ConnectX-3 EN dual-port PCI-Express 3.0 x8 adapters, and four 3m passive copper cables at $28,000 – a 49.6 percent cut from list price.
Mellanox was obviously eager to get some PCI-Express 3.0 adapters into the hands of early adopters of Intel's "Sandy Bridge-EP" Xeon E5 processors – who got the machines under NDA agreements – as well as some of its new SwitchX-based switches. The deal ran out at the end of September, which was yet another indicator that Intel had hoped to ship the Xeon E5s last year.
As it turns out, by running this special deal Mellanox discovered that there is still price elasticity in the networking market.
"There is definitely demand for 10GE, but it has been limited by high cost," Gilad Shainer, senior director of high-performance and technical computing at Mellanox, tells El Reg.
The whole point of the SwitchX and ConnectX-3 converged products is that Mellanox can cut back on ASIC development for Ethernet and InfiniBand separately, and then pass some of the savings on to customers. This, says Shainer, is what the company is doing with new prices that launch today. The idea is to pull the curve up, from linear to exponential: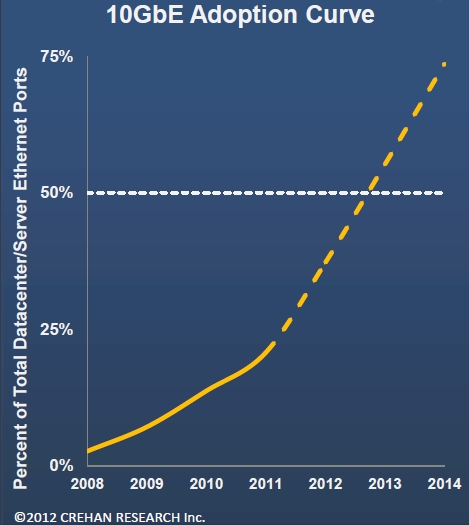 The 10GbE ramp is not steep enough for Mellanox
Shainer says that in the past year Mellanox has boosted its share of the 10GbE network interface card count from a few percent in late 2010 to close to 15 percent as 2011 came to an end, and that the company believes that by knocking down prices on both 10GbE and 40GbE switches and on server adapter cards that talk to its own as well as anyone else's 10GbE and 40GbE switches, it can bend that dashed part of the line in the chart above and get more 10GbE ports into data centers.
The data above is from Crehan Research, which estimates that there are more than 170 million data center switch and server ports running at Gigabit Ethernet speeds, and about 25 million ports running at 10GbE speeds out of a total of 192 million ports.
This year, thanks to a lot of different factors such as less-expensive 10GbE switches, 10GbE ports getting soldered onto mobos, and the availability of PCI-Express 3.0 peripheral slots, 10GbE ports are expected to account for 37 per cent of total port shipments in 2012. Crehan didn't say how many ports that will be, but did say that by 2014, 10GbE will be the de facto network port for new iron.
To that end, Mellanox is dropping the price of its SX1016 switch to $12,000, or $188 per 10GbE port, and of its SX1036 to $16,425, or $257 per 10GbE port. The SX1036 has the full Layer 2 stack and can be run as a 36-port 40GbE switch, if customers want to do that. And with a microcode upgrade, customers can move to a Fourteen Data Rate (FDR) InfiniBand protocol running at 56Gb/sec, and use the same copper ports.
Here's how Mellanox thinks it stacks up to the competition: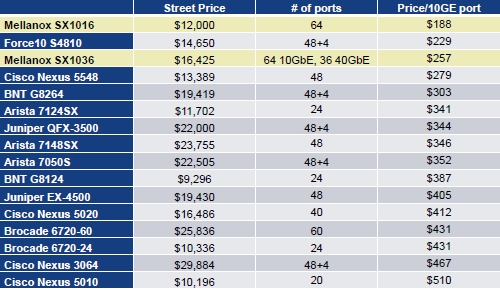 Street pricing for 10 Gigabit Ethernet switches
Prices are similarly being chopped on the ConnectX-3 server adapter cards – here's how they stack up versus alternatives according to Mellanox's own competitive analysis:

Street pricing for 10 Gigabit Ethernet server adapter cards
Basically, for around $200 per port on the server and the switch, you can move to 10GbE.
So how many people will now jump straight to 40GbE? With the Xeon E5 processors being able to drive 40GbE adapter cards at full speed, this will be an option.
Bootnote: Arista Networks took issue with the data in the switch table presented by Mellanox thus: "Arista's inclusion in the table is somewhat erroneous. I'm sure you realize that the products we're being compared to lack layer three functionality, buffers, table sizes, and advanced features. It also should be noted that our 7050S/T switches range from $220 to $395 per port, not simply $352." ®