This article is more than 1 year old
Russia and NASA plan to COLONISE the Moon
'We want to do more than just step on it'
Russian, American and European space agencies are in talks to create a human colony on the Moon, according to Russian news source Rianovosti.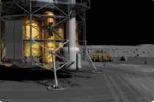 Artist's impression of the Moon
station from Nasa's
Global Exploration Roadmap
Russia wants to build either a space base on the surface of the Moon itself or a space station that closely orbits the heavenly body – and has planned talks with NASA and the European Space Agency about creating the manned base. It has been 40 years since humans visited the Moon and Russia cosmo-bosses want to go further this time.
"We don't want the man to just step on the Moon," agency chief Vladimir Popovkin said in an interview with Vesti FM radio station. "Today, we know enough about it. We know that there is water in its polar areas," he added. "We are now discussing how to begin [the Moon's] exploration with NASA and the European Space Agency."
Russian space officials are already working on a "prospective manned transportation system" to the Moon, Popovkin said.
The Moon plans form part of the Global Exploration Roadmap [PDF], an international plan for the human exploration of space. The roadmap's ultimate aim is human exploration of Mars.
Russia's rocket industry suffered a serious blow earlier this year with the failure of the Phobos-Grunt's mission to Mars.
The last people on the moon — Apollo 17's Eugene Cernan and Harrison Schmitt — stayed for just over three days in 1972. ®