The global trade group for the record industry IFPI says France's 'graduated response' scheme HADOPI is helping win the war against piracy.
Under the scheme, which began 15 months ago, if a file-sharer receives three warning letters in a year, their account is suspended for a month, and the subscriber may receive a fine of up to €1,500. According to HADOPI (Haute autorité pour la diffusion des oeuvres et la protection des droits sur internet) itself, 736,000 people have received their first letter, 62,000 their second letter, and 165 their third. If this was the only data point we had, it would suggest the scheme has been a terrific success – and everyone (except HADOPI) could go home. But it's not that simple.
According to numbers estimated by Nielsen Research, P2P file-sharing fell by 26 per cent year on year. IFPI also cites figures from South Korea that suggest 70 per cent of file-sharers cease from copyright infringement on receipt of their first warning letter. Another French study is rather less emphatic, however. Ipsos MediaCT suggests that 48 per cent of the age group 15 to 50 say the sanctions have a genuine deterrent effect on their behaviour. How about the real numbers – licensed usage should be increasing while unlicensed usage should be declining.
While the actual number of P2P transactions has fallen – down by 26 per cent, says IFPI – they have been edging back up again.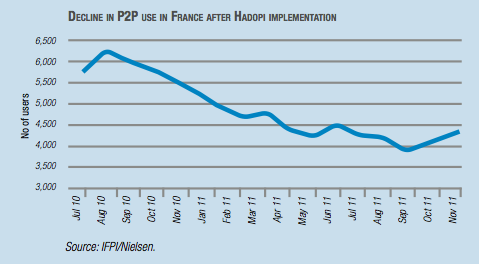 Is three strikes working?
Bittorrent was never designed to evade copyright enforcement, and P2P file-sharers remain an easy target. So piracy may simply have shifted to other means such as cyberlockers, where it's a little harder to identify the perp.
There's only one number that matters, though, and that's the size of the real, licensed market. Whether HADOPI does help create market growth for income from sound recordings isn't immediately clear. It will be a tragedy for future generations if piracy is deemed 'cured' – trebles all round – and the market nevertheless remains a wasteland, obliging tomorrow's ambitious and talented musicians to look to oligarchs, corporate sponsors or tip-jars to fund their recordings. Or even worse, Simon Cowell. ®

Andrew welcomes your mail.