This article is more than 1 year old
Sony SVR-HDT1000 Freeview+ HD DVR
No-nonsense telly recorder with HDD archiving
Review

At first glance, the Sony SVR-HDT1000 may appear rather unprepossessing. It's a Freeview HD digital recorder which bucks the trend for ubiquitous Smart-ness and has no integrated Blu-ray player or fancy multi-platform functionality. It does, however, make a virtue of simplicity. Those looking for a no-nonsense, high grade terrestrial DVR are unlikely to be disappointed.

Record-player: Sony's SVR-HDT1000 Freeview+ HD DVR
The SVR-HDT1000 packs a prodigious 1TB drive, enough for some 600 hours of standard definition TV or 250 hours of HD. A lookalike model with a smaller 500GB drive is also available, the £50 cheaper SVR-HDT500.
The unit itself is impressively small at just 320mm wide, thanks to an outboard power supply, and has a good build quality too. It's designed to partner Sony's Monolithic Design BRAVIA TVs. Not only does this DVR appear to be well made, it runs quietly; a whispering fan does not draw undue attention to itself.

Bare essentials round the back
Rear connectivity is fairly standard. There's a single HDMI output (no HDMI switching is provided), supported by legacy analogue AV phonos, a digital coaxial audio output, USB and Ethernet. A second USB can be found on the front fascia, concealed beneath a recalcitrant bung.
However, the unit lacks any useful display. Instead of time or channel information, there's just a glowing white light and a pair of red LED recording lamps; at least you'll know when it's timeshifting Masterchef.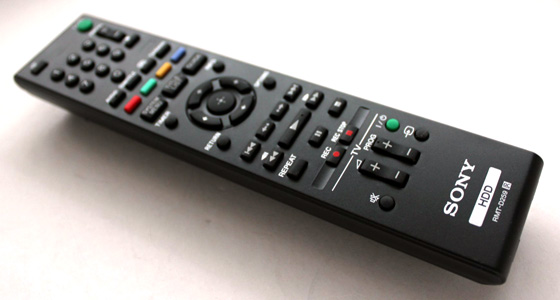 Typical Sony remote holds few surprises
It's perhaps unfortunate that the SVR-HDT1000 doesn't plumb into Sony's IPTV Smart network. Rival boxes from Samsung, LG and Panasonic are all integrated with their respective Smart portals, consequently this DVR offers no access to YouTube, movies on demand services or miscellaneous apps.